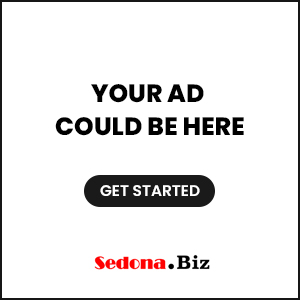 Upcoming Events:
Saturday, April 14, 6 – 8 pm: Spring/Earth Day Celebration in the Si Birch Community Room. Festivities will include poetry, storytelling, humor, and musical performances.
Wednesday, April 18, 10:30 – 11:30 am: Benefits of Yoga for Your Children. Presented by Haejung Jung in the Children's Room.
Wednesday, April 18, 5 – 7 pm: Rotating Artist Reception at Sedona Public Library in the Village, Tequa Plaza. Meet the Sedona Red Rock High School Students whose artwork is on exhibit.
Saturday, April 21 – Sunday, April 29: Friends of the Sedona Library Book Sale. During regular library hours and noon – 5 pm on Sundays.
By Karen Mack, Youth Services Librarian
Sedona AZ (April 10, 2012) – During National Library Week, from April 9 through Saturday April 14, returned overdue library items will be received with a smile and a waived fine. Now is the time to return those library items that seem to have slipped past the due date. Even the $3.00 maximum fine for long overdue items will be forgiven if the item is returned this week.
National Library Week was first observed in 1958. Research in the early 50s showed that people were spending less time reading and more time listening to the radio, watching television and playing music. In response, the American Library Association has since been sponsoring a weeklong celebration every April- a week of encouraging reading and promoting the use of libraries.
The Sedona Public and Sedona Public Library in the Village are participating in National Library Week by providing a fine-free week and offering educational, topical and entertaining events. Sedona Public Library started the week with a visit from Lynda Exley, coauthor of Way Out West and Witty, the "OneBookAZ for kids" 2012 winner. Fourth through sixth grade students and teachers from the Sedona Charter School attended and enjoyed the presentation. Exley discussed some of Arizona's zaniest legends, humorous history and fun factoids. The interactive program also included games, prizes and giveaways. The attendees were thoroughly entertained and left the Si Birch Community Room knowing which Arizona city got its name by mistake, why sleeping in wet sheets was a good thing and much more.
The final event during National Library Week will be rich in language, song, and talent. On Saturday, April 14, the general public is invited to Sedona Public Library at 6:00 pm for a Spring/Earth Day Celebration. Meant to celebrate our lovely living planet, this show will feature some of the best performing poets and authors in Arizona. Marcela Saldivia and Gary Every are bringing together this amazing event that will include poetry, storytelling, humor, and musical performances. Featured guests are international performer the Klute, poet Jen Valencia, local composers the Tor Brothers, vocalist Cynthia Strom, and many others.
Coinciding with this special week, the American Library Association's Public Information Office released its "State of America's Libraries Report." This annual publication is one of the most comprehensive reports available on library usage and funding trends. The report also includes the top ten list of the most frequently challenged books of 2011. If you are interested in reading the report, a hard copy is now available at the Youth Services desk of Sedona Public Library and of course can be viewed online.
Come visit the library during National Library Week. Attend a library program and take advantage of the fine-free check-in that will run through Saturday, April 14.
The Sedona Public Library is a private, 501(c)(3) non-profit corporation, supported by donations and grants. Your tax deductible donation may be sent to: Sedona Public Library, 3250 White Bear Road, Sedona, AZ 86336.