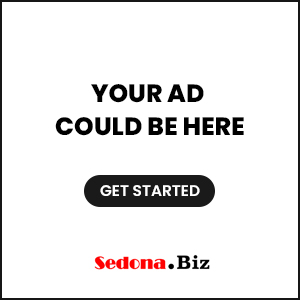 By Kate Hawkes
Sedona AZ (January 17, 2017) – As we launch into 2017 with all the international/national challenges and worries surrounding us, many of us have been asking what is the role of the arts in our society? So Kate Hawkes and Eric Holowacz have put their heads (and artistic hearts) together to address that in a proactive manner.
Red Earth Theatre and Sedona Arts Center are hosting a series of reader's theatre plays that explore social issues and facilitate discussion. These will be held on the 3rd Tuesday of each month in 2017, beginning this January 24th at 7pm, at the Sedona Hub.
With the most thought-provoking plays, the forth wall can become a mirror. The text can prove itself as social commentary and allegory. The live experience can be an epiphany, a lead to awakenings of mind, body, and spirit. With those thoughts, we plan this new series.  
We begin with 6, 10 minute plays, a 5 minute play, a 2 minute play and a poem, selected from the Little Black Dress INK, Female Playwrights initiative 'We're Not Playing' series. Some of these have not been heard before and most only for the first time on January 20th throughout the country from LA, to Knox College IL, Prescott and now in Sedona.
Playwrights include Kate Hawkes, Allie Costa, Micki Shelton, Reagan Payne, Beth Kander, Karli Shields and Barbara Blumenthal-Ehrlich as well as a new poem by Martha Entin. Actors include Shaeri Richards, Terra Shelman, Ashlee Threlkeld, Marlou Elewaut, Steve Moffe, Michelle Lambeau, Mary Gladieux, Kevin MacDormott, Katie King (from Flagstaff) and Martha Entin. In addition two of the casts (and one playwright) are coming over from Prescott.
We believe the arts reflect and articulate ourselves, providing an opportunity for discussion and communication around issues that can be difficult and potentially divisive, through emotional connection to the human beings on stage.  Each reading will be followed by a facilitated informal discussion of the play. 
Future readings include 'Angels In America', 'Traveling North' and 'for colored girls who have considered suicide / when the rainbow is enuf' directed respectively by Michelle Lambeau, Gerard Maguire and Camilla Ross. 
Join us this Tuesday 24th at 7pm  when Red Earth Theatre and Sedona Arts Center at the Sedona Hub present the first monthly 'Reflections Through Theatre' reader's theatre event, where the live performing arts stimulate discussion and community. Experience a range of new plays from Little Back Dress INK and share your response.
When: Tuesday January 24th, 7pm
Where: Sedona Hub (525B Posse Grounds Rd)
Suggested Donation: $5
Not suitable for children.
For more information visit www.redearththeatre.org  or  email info@redearththeartre.org.
Phone: 928-399-0997