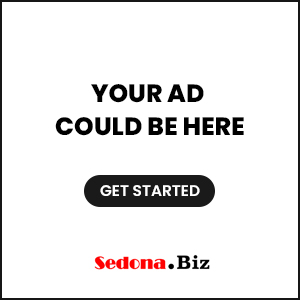 Sedona AZ (October 24, 2012) – The autumn weather might be cooling down these days, but activity is heating up at Hillside's Pop-Up Sedona Gallery.  For November the venue will spotlight the diverse artistic work of photographer Jim Peterson and figurative and landscape painter Rick Gandolfo.  Both will be on hand to meet the public and discuss their work at the gallery's First Friday reception, 5-8PM on November 2.
In addition, the gallery proudly introduces two new artists this month, potter Luke Metz and fine art jeweler Komala Rhode.  Their works are now exhibited alongside those of the other fourteen Pop Up artists.
Rick Gandolfo's Plein Air and figurative style has developed over 30 years of artistic expression.  His current work, which is part of his November Pop-Up offerings, is a contemporary look at the Northern and Western scenes of Arizona as well as their figurative counterparts. 
"My work represents my observations of the landscape and figurative images that I see," he notes.  "I want my viewer to discover a new way to look at the world around them on both a conscious and unconscious level."  Gandolfo's work might thus be thought of as an experience as much as a viewing.  His paintings offer a very distinctive style and reflect his unique view of the world in color, light and shadow.
Jim Peterson's images draw on a similar love of the Southwest, but from the perspective of a very original and accomplished photographic artist.  Peterson's work is firmly rooted in his love for sublime light and the quiet spirit of the American West.  He explains that "photography allows me to offer small, intimate portraits of wild beings as well as majestic, room-sized landscapes and panoramas, plus the occasional abstract or experimental composition."
New pieces Peterson will have on display include "Chapel Dome, Tumacacori Mission", an elegant and contemplative image of a sacred form, and "The Zen of Aspens", a softly evocative vision of young trees on Utah's Aquarius Plateau.
Komala Rhode and Luke Metz exhibit equally sophisticated works in their respective media.  Rhode, a noted local teacher of her craft, creates exquisite jewelry via a precious metal clay process, while Metz fashions functional and decorative ceramics with a masterful touch for finishes and glazes.
In addition to Gandolfo, Peterson, Metz, and Rhode, Pop-Up showcases the work of twelve other local artists, representing a remarkable variety of mediums and styles.  The gallery exhibits the creative work of painters, photographers, sculptors, jewelers, and glass artists.  Pop-Up is operated entirely by the artists, giving visitors the opportunity to meet an artist and discuss both the medium and the meaning of pieces exhibited in the gallery. 
A portion of each sale at Pop Up is donated to the Verde Valley Sanctuary, a non-profit which offers a safe haven for victims of domestic abuse, providing shelter, community outreach, and legal advocacy services.
Pop-Up is located on the upper level of Hillside Sedona Center, 671 State Route 179 (about ½ mile south of the "Y" in Sedona).  The gallery is open from 10 to 6 PM every day with an extra hour on Wednesday evenings – until 7 pm — as part of Hillside Sedona's "Weekend on Wednesdays." 
More information about the gallery can be found online at http://www.pop-upsedonagallery.com.