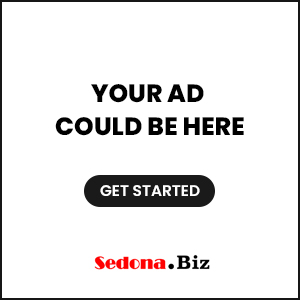 Sedona AZ (February 8, 2018) – Who is delightfully jolly, brings everyone gifts, and gets around town on a reindeer sleigh? This description fits two people: Santa Claus, of course, and Patrick Schweiss, Executive Director of the Sedona International Film Festival. 
Patrick's ebullience is renowned, and each year he brings us a week of wonderful films and other events at the Sedona International Film Festival.  (Sorry, we lied about the reindeer.) Want to know what's in Patrick's sack for us this year at the 24th annual SIFF? If you do, he will provide an exclusive peek at the best of his goodies at the Osher Lifelong Learning Institute's (OLLI's) Lunch and Learn program on Wednesday, February 14, from 1:00 – 2:00 p.m., in room 34 of Yavapai College's Sedona Center (on Cultural Park Place, across Rte 89A from Red Rock High School).
Patrick assures us that he and his team will be pulling out all the stops this year, from February 24-March 4, to make the upcoming festival Sedona's greatest celebration ever of the best independent films in the world. 
When we have nine full days and more than 160 films to choose from, we need as much information as possible to decide what we will attend.  So you will want to Join us to hear what Patrick has to say and to ask him questions about what will be showing, who will be coming, and what will be happening at the 2018 SIFF. You'll want to hear Patrick provide the backstage scuttlebutt about the most intriguing shorts, documentaries, animation, foreign films, student films, and more that will be shown.
You also will discover which celebrities, filmmakers, and industry guests will be attending and at which events they will make presentations.
OLLI's  Lunch & Learn is an enjoyable, informative, weekly community event that is free and open to all! Bring your lunch (or come for complimentary coffee, tea, water, and a little snack) and join the conversation at 12:30, or come from 1:00 – 2:00 to meet Patrick Schweiss and to pick up all the information you need to decide whether you want to purchase platinum, gold, or paper passes to the festival, and to determine how to get the biggest bang for the bucks you'll spend that week.
OLLI is a local, volunteer, peer-to-peer, adult education program (part of Yavapai College) that offers many learning groups and workshops each term for a nominal fee.  Its Winter term is underway, and the catalog is available on line at www.ollisedonaverde.org.
For more information about OLLI or the Lunch & Learn program, please call: 928-649-4275.