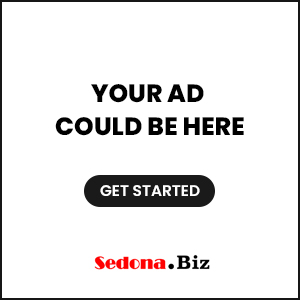 Sedona AZ (September 16, 2020) – Have you ever played on a team whose goal is to play 100 holes of golf in one day? Well, here's your opportunity! Spots are limited so sign up soon!
The Rotary Club of Sedona Village is hosting this team tournament on Saturday, November 7, 2020. In this 4-person SHAMBLE format each team will play 100 holes of golf or 25 holes per player. The entry fee of $100/non-Oak Creek Country Club member or $55/Oak Creek Country Club member includes a cart, box lunch, drink ticket, golf balls and tee prizes. Prizes will also be given for closest-to-the-pin on the four par threes, low team net score, and highest pledge totals. There will also be the opportunity to win a golf cart for a hole-in-one on one of the par 3s. COVID-19 safety measures will be followed. Tee times start at 11AM.
The tournament benefits two great causes: The Rotary Club of Sedona Village community minded projects including their Community Garden at the Big Park School, youth enrichment programs and community service projects as well as the Special Olympics Arizona/Mountain Golf Program, a program dear to the heart of Oak Creek Country Club Head Golf Professional and LPGA pro, Heather Risk.
Players are asked to gather pledges to benefit these worthy causes. Sponsorships are available and donations are welcome. See www.SedonaVillageRotary.org for more information regarding registering, contributing and bidding on rounds of golf for four at local golf courses.
The tournament honors the wonderful Rotary spirit of passed Sedona Rotarian Eddie Passov and his family who keep his memory alive by co-organizing periodic Sedona Rotary golf tournaments such as this one. Eddie was an avid golfer and a true humanitarian. This tournament benefits the kinds of causes he held dear.
The Rotary Club of Sedona Village's mission is: Where neighbors, friends and problem solvers share ideas, join leaders, and take action to create beneficial change within our local and worldwide communities. During COVID-19 restrictions, members gather via zoom twice monthly for club meetings. Visitors are welcome to join the zoom meetings by emailing president@sedonavillagerotary.org for the zoom link.