Scenic Skyride opens Memorial Day Weekend
Flagstaff AZ (May 23, 2012) – Soaring above the forest, surrounded by volcanoes and looking out from the highest point in the region – throw in a chance viewing of a black bear or mountain lion – and you've got all the excitement and adventure of a high-priced theme park! But this is Arizona's natural environment, brought to you by Arizona Snowbowl's Scenic Skyride.
The first chair on Scenic Skyride opens at 10 a.m., Saturday, May 26, ready to carry families, vacationers and sweethearts to Arizona's only arctic alpine tundra at 11,500 feet where ancient bristle cone pines – a remnant species from the ice age – appear to grow sideways from windy, icy winters.
Like a theme park, Forest Rangers will greet you at the top. They're ready to show you four different kinds of volcanoes, point out the sheer vertical wall of the Grand Canyon's North Rim and share a bit about northern Arizona's role in World War II history.
"The second most asked question we get is, 'What are those big white buildings down there?'" said National Park Service Interpretive Ranger John Westerlund. "You can see the above-ground ammunition bunkers at Camp Navajo and where the prisoner of war camp was."
The first question is either about the Grand Canyon or the strato volcano that created the San Francisco Peaks. "It's not extinct, but we don't expect it to erupt anytime soon! Also, this is one of the few places on the Earth's surface you can see the four primary types of volcanoes and you don't have to move."
Westerlund recommends catching the Skyride at 10 a.m., spending some time at the top soaking in the 70-mile, nearly panoramic view through Arizona's clear skies and having lunch at the Peak Side Café at Agassiz Lodge after the ride down, and then taking a gentle walk in the woods.
"You can sit out there on the deck in a wonderful setting and enjoy a delicious lunch. Then take some walks or hikes in the beautiful forest around Hart Prairie Lodge."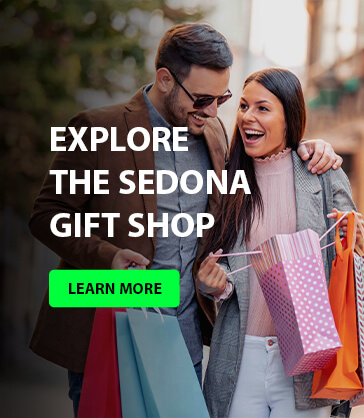 The Kachina Trail winds through bright aspen groves on the south side of the Peaks and the Aspen Loop is a meandering trail that connects with the Arizona Trail. Humphreys Peak Trail is an ambitious hike that leads to the highest point in the state at 12,633 feet.
Meantime, Snowbowl will be offering live music on weekend afternoons at the Peak Side Café. "We're also excited about the return of the Sunset Skyride on the second Friday of each month," said Sales and Marketing Director David Smith. "Starting at 3 p.m. on these second Fridays, you'll receive a free barbecue dinner with your Skyride ticket!"
Normal days and hours for the Skyride are 10 a.m. to 4 p.m., Fridays, Saturdays and Sundays, along with holiday Mondays through mid-October. Hours will be extended to 6 p.m. on those Sunset Skyride Saturdays.
Like theme parks, vacationers can find lodging nearby. The rustic Ski Lift Lodge & Cabins at the foot of the mountain offers summer packages including Scenic Skyride tickets and a continental breakfast with your stay.
"The Ski Lift Lodge makes a great base camp for enjoying northern Arizona's high country," said Smith. "Now that temperatures have started to heat up in the Valley, the Scenic Skyride is the perfect way to cool down!"
Scenic Skyride tickets are $15 for adults and $10 for juniors (ages 8-13) and seniors (ages 65-69). Those under 7 or over 70 ride for free! For more information, log onto www.arizonasnowbowl.com .