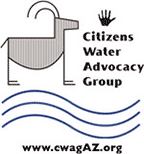 Prescott AZ (January 24, 2018) – How will the proposed Arizona Eco Development annexation impact popular trails and riparian habitat in the Granite Dells? What role can and should area citizens play in ensuring protection of the ecological, hydrological, archeological, historical, recreational, and aesthetic values of the unique 1.4 billion-year-old Granite Dells? 
Find out when naturalist Walt Anderson presents "Granite Dells: A Threatened Community Resource" at the Saturday, Feb. 10 meeting of the Citizens Water Advocacy Group from 10 a.m. to noon at the Granite Peak Unitarian Universalist Congregation building, 882 Sunset Avenue, Prescott. Everyone is welcome. 
Aided by his spectacular photos of the area, Anderson will describe the wildlife and open space values of the riparian habitat along Granite Creek below the Watson Lake Dam and of the Peavine and Iron King Trails, which go through the heart of the Granite Dells. These trails and Granite Creek are threatened by proposed subdivision development and diversion of water from the creek's stream bed.
Prescott College faculty member Walt Anderson teaches and advises on natural history, ecology, wildlife management, wetland ecology and management, interpreting nature through art and photography, ecotourism, and field biology. He lives in the Granite Dells and is active in efforts to preserve the area for all citizens.  For more info, call 445-4218, e-mail info@cwagaz.org or visit www.cwagaz.org .