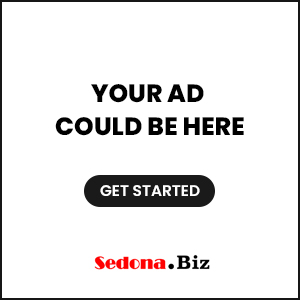 Sedona AZ (November 2, 2012) – Georgia Michalicek's fine art photography, "Canyon Columbines", won Best of Show at the ASU Emeritus College / Sedona Area Guild of Artists (SAGA) Juried Art Exhibition. It is a very special piece of photography, printed on polished aluminum.
First Place was won by Jerry Buley, Ph.D. for his "It's Not a Woody." Mary Dove's "Dry Beaver Creek Sycamore" took Second Place." Third was won by Sharron Porter for her "Painted Desert." "Red Rock Moonrise" by Barbara Vickers won Honorable Mention as did Mary Dove's "Sedona Rabbit Brush." The President's Award for Traditional Art was presented to Csaba Martonyi for "Spring II", his carving out of a single piece of bass wood. Finally, The Emeritus College Award for Contemporary Art was won by SAGA President, Jerry Buley, Ph.D. for "Ensenada Lily."
Anthony Gully, Professor Emeritus from the ASU Herberger Institute for Design and the Arts, was the juror. The Exhibition was during Homecoming, from October 24 to November 5, in the Old Main Building,. As with all SAGA Exhibitions, the juror was completely unbiased and knew no one in the Exhibition.