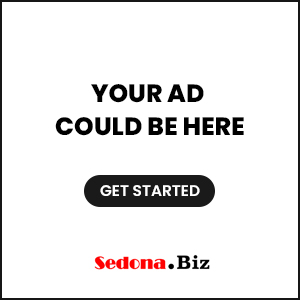 By Tommy Acosta
Sedona AZ (September 15, 2012) – For those suffering from disease-related symptoms that have not responded to conventional medical treatment, hope for relief is on the way.
A doctor-staffed medical marijuana evaluation clinic and wellness center has opened for business at 1370 West State Route 89A, Ste. 13, directly across from the Martini Bar Patio stage in West Sedona.
 Arizona Voters approved the use and distribution of medical marijuana through Proposition 203 in the November 2010 elections by a small margin.
What this means for those with certain medical conditions, is that individuals diagnosed with Cancer, Glaucoma, Human Immunodeficiency Virus (HIV), Acquired Immune Deficiency Syndrome (AIDS), Hepatitis C, Amyotrophic Lateral Sclerosis (ALS),  Crohn's disease, Agitation of Alzheimer's disease: a chronic or debilitating disease, medical condition or the treatment that causes Cachexia or wasting syndrome; severe and chronic pain; severe nausea; seizures, including those characteristic of epilepsy; severe or persistent muscle spasms, including those characteristic of multiple sclerosis may qualify for a state-issued Medical Marijuana certification card that allows patients to legally grow, posses and ingest cannabis products that may ease their symptoms.
While federal laws still consider marijuana an illegal drug, doctors in Arizona may certify a patient's eligibility for an Arizona Medical Marijuana Program ID card who meets the state standards because of the passage of Prop 203.
Medical doctors cannot prescribe the drug. They can only certify patients that meet the state standards.
According to Dr. Sam Walker, a family doctor and medical director of the Green Cross Medical Evaluation Clinic and Wellness Center in Sedona, he and David Berkovits, an expert in the field of medical marijuana, formed Green Cross to certify qualified patients to be able to use medical marijuana in Arizona.
"We started in the storage room of my clinic in Phoenix," Dr. Walker said. "By September 2011 we had grown to the point where my family practice had to find another building down the street so that Green Cross could occupy our entire clinic space. Sedona was selected as an expansion site along with Prescott because we had a number of patients who were making the trip to Phoenix for certification."
He said that though he personally does not use cannabis and has no agenda to see it legalized for recreational use, he is convinced of the plant's medical benefits.
"I think using marijuana is a personal decision and one that should be left up to responsible adults without government interference," he said. "I'm much more about the medicinal benefits of this plant."
He said that potential patients that could benefit from the pain relieving and appetite increasing qualities of medical cannabis may be turned off to using it because of an erroneous belief that one has to "get" high as a result.
"One of the great myths about medical marijuana is that you have to get 'buzzed' or 'high' when you use this drug," he said. "There are many active components in the marijuana plant. THC is that famous component that gives what I call the 'Cheech and Chong' effects — red eyes, the munchies, anxiety to mild paranoia, 'couch potato lock', etc. The real medicine in medical marijuana comes from the component called cannabidiol. This component produces muscle relaxation, analgesia, anti-anxiety, and anti-inflamatory effects and tends to block the effects of THC. Thus many medical problems can be remedied with strains of marijuana that contain predominantly cannabidiols.
He said that a vast majority of patients who use medical marijuana suffer chronic pain and that according to Web MD, the most prescribed drug in 2011 was hydrocodone with Tylenol–otherwise known as Vicodin, Norco, etc.
He said this type of powerful narcotic pain reliever was prescribed by physicians 131.2 million times that year.
"Patients with pain fill the waiting rooms of doctor's offices all over the country," he said. "Pain relief can be achieved many times by using medical marijuana. Cannabidiols provide pain relief without the psychogenic effects produced by THC. I have been privileged to witness many patients completely taper off of their narcotic medications in favor of medical marijuana. In many cases it has given them their life back.
Although many scientific tests are still being conducted to determine just how effective medical marijuana can be in alleviating certain symptoms, the doctor has seen many patients with appetite issues respond to medical cannabis.
"We have a number of cancer, HIV/AIDS and Hepatitis C patients," he said. "These folks have a tendency to have difficulty maintaining their appetite and therefore their weight due to the nausea and other side effects of the medications they take to fight their disease."
He said he has seen patients with glaucoma and neurological diseases respond as well.
"Glaucoma patients do amazingly well with marijuana," he said. "I've had that confirmed multiple times by ophthalmologists taking care of some of my patients. Seizures can often be controlled by medical marijuana as can the spasms associated with multiple sclerosis and other neurological diseases."
He said Post Traumatic Stress Disorders, a common disease among returning combat veterans, can also be alleviated by medical cannabis.
"Despite recent rulings to the contrary, PTSD also responds very well to medical marijuana," he said. "It goes without saying that when I see the positive effects my patient's experience with the medical marijuana it definitely motivates me to go on. The capper is that medicinal marijuana is so safe that I have no reservations about recommending it.
Dr. Walker does not recommend smoking marijuana; rather, there are other ways of ingesting the drug to maximize benefits and lower risks.
"I tend to try to dissuade people from smoking marijuana," he said. "Inhalation can be helpful because the effects can be felt in 1 to 2 minutes but I recommend vaporizing for those patients that need rapid pain relief."
 He said potential patients seeking qualification for certification must have a medical history of their qualifying medical condition and must bring the records to him when they come to his office.
"We see patients for certification to use medical marijuana when they present to us with recent medical records that confirm their qualifying condition," he said. "I do not make the diagnosis; I merely confirm that they have seen a physician who has documented that condition. After I sign the certification, our staff processes that application with the state for the patient and they are legal to use marijuana for medical purposes before they leave the office."
According to Dr. Walker, the usual charge for services is $150. Veterans get a discount to $125.
The state charges an additional $150 that is submitted online with the application to the state health department.
If a patient has a food stamp card, the state only charges $75. The patient has to be recertified every year.
He said that certified patients with an Arizona Medical Marijuana Program ID card can grow up to 12 plants for their personal use if they choose.
Qualifying patients cannot grow medical marijuana for themselves if they live within a 25-mile radius of a medical marijuana dispensary.  Cultivation can be done outdoors as well as indoors, it just has to be a locked facility.
The fate of medical marijuana dispensaries remains in legal limbo as state legal authorities wrestle with enforcement and legality issues.
The state presently allows "caregivers" to donate medical marijuana to qualified users.
He said his office can provide expert instruction and guidance for qualified users who wish to grow their own cannabis. Medical marijuana must be grown indoors by patients.
He said there is a physician in the Sedona Green Cross office clinic at least one day per week to certify and follow-up with patients.
A clinic manager is in the office Tuesday  thru Friday.
Dr. Walker said he and his staff take great care in explaining effects of medical marijuana and other options open to patients.
"I most definitely offer advice about side effects and the positive effects of medical marijuana," he said. "I also counsel about alternative treatments. We are working on enhancing our clinics by adding naturopathic physicians that will provide other natural therapies for our patients. We are looking at having massage therapists, reflexologists and other holistic practitioners working with us as well."
He said he monitors the use of medical marijuana in conjunction with other conventional medicines his patients may be using.
"I also try to help patients negotiate the use of their medical marijuana as an adjunct to their other medications," he said. "For example, pain medications must be withdrawn slowly and I offer help for patients to accomplish this."
To learn more about the Sedona Medical Marijuana Evaluation Clinic and Wellness Center visit www.GreenCrossClinics.com. Send an email to info@greecrossclinics.com for more information or call 480.443.8664 to schedule an appointment. No appointment is necessary to visit the clinic.