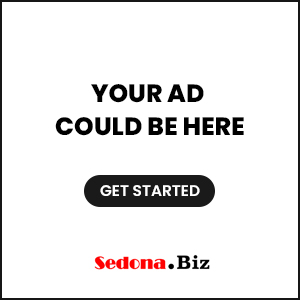 It's all about food, fun and film as Sedona Film Festival presents an evening of local and seasonal offerings at a special fundraising event on July 20th
Sedona AZ (July 12, 2013) – What do you get when you mix together local fine wines, seasonal food from Enchantment Resort, a selection of award-winning short films and music by Sedona's own Sammy Davis Band? These all add up to another incredible Sedona Film Festival fundraising event dedicated to raise money for the festival's scholarship program and a much-needed Theater Marquee for the Mary D. Fisher Theatre.
It's summer Hollywood themed so be cool and wear your favorite Hollywood hat and/or boa and enjoy an evening filled with the finest offerings from the Verde Valley, including a wine tasting of fine wines from local vineyards.
The tasting will be a prelude to a sumptuous four-course family style dinner prepared by Enchantment Resort. Executive Chef David Schmidt will be preparing a delectable meal that Enchantment is famous for. This seasonal menu will be an award-worthy highlight of this special event.
Included in the price of a ticket will be a chance to win fabulous dining prizes … dinners, gift certificates, fine food, wine and more! Plus, silent and live auctions featuring dinner parties, chef's tastings, private parties and much more will also be part of the evening's festivities.
"The Enchantment Resort, Chef David Schmidt, all of the local vineyards and growers have come together to make this evening extraordinarily special to benefit the film festival," said the festival director Patrick Schweiss. "They are pulling out all the stops to make this a truly spectacular evening of delicious culinary creations under the moonlight at the Enchantment Resort Village."
The highlight of this benefit for the Sedona International Film Festival will be featuring a selection of short films submitted for this year's festival. Audience members will be the judges and jury, casting their votes for which of these films will be included in the 2014 Sedona Film Festival. "Come join us as you rate the films just the way our screening committee rates them … and the winning film will be featured in our upcoming lineup!" added Schweiss.
Applaud the art of film, dance to the music of Sammy Davis and his band, taste the nectar of the Verde Valley, celebrate the culinary artistry of David Schmidt and the magical ambiance of the Enchantment Resort. All of this with our Sedona Film Festival Family.
"A Taste of the Verde Valley" wine-tasting reception begins at 5 p.m. Dinner and the evening's festivities will follow.
The event is sponsored by the Enchantment Resort, the Verde Valley Wine Consortium and local vineyards and growers.
Space is limited to 140 people for this very special event on July 20. Tickets for "Marquee by Moonlight" are $125 per person for Film Festival members and $135 for non-members. The event will also support "Sedona Community Center" — $25 from every ticket will be donated to the charity to help feed the hungry.
Call the Sedona International Film Festival at 928-282-1177 for tickets and more information. You may also visit our website at www.SedonaFilmFestival.org.