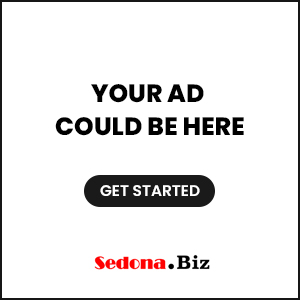 By Cheryl L. Yeatts, Manager of Sedona Public Library in the Village
Sedona AZ (August 22, 2014) – When my friend told me she was going to France to celebrate her birthday, I asked her if she spoke French. She replied, "Je parle un peu français," which translates as, "I speak a little French." She said she had studied the language in college, but her French was a bit rusty. I suggested she use Mango Languages to brush up on her conversational skills.
Sedona Public Library is pleased to offer the Mango Languages online language-learning system to its patrons. If you are not familiar with Mango Languages, it is a wonderful resource for learning a new language or practicing your language skills. The lessons incorporate sound, images, and text to teach conversational skills in real-life situations. Follow along at your own pace as you are prompted to repeat dialogues between native speakers. Each language course integrates vocabulary, pronunciation, grammar, and culture. Because users learn actual conversations, at the end of a course you will gain practical skills such as being able to introduce yourself, ask for directions, and order meals.
I recommended Mango to my friend because I like the format for learning. It is easy to access online and easy to use, with simple, clear instructions. My favorite part, however, is the cultural notes. The photographs and descriptions are like having your own travel guide!
If you are interested in learning a new language, Mango Basic teaches everyday greetings, goodbyes, and helpful phrases in a short period of time and is designed to appeal to a beginner in a new language. Other courses are more comprehensive. There are more than 63 foreign language courses available, the most popular being Spanish, French, English, Mandarin Chinese, and German. Mango Languages also offers ESL versions for speakers of 16 foreign languages. 
Not only is Mango Languages a fun way to learn a language, it also offers interesting specialty courses: discussions about soccer in Portuguese (in honor of the World Cup), texts from the New Testament in first-century Greek, and Spanish medical terminology. There is even a Spanish course especially for librarians. Sign me up!
To learn more about Mango, stop by the Library and we will give you an introduction. You can access Mango Languages through the Research and Resources page on the Library's website, www.sedonalibrary.org. Sedona Public Library patrons can also take advantage of Mango Languages' latest innovations: mobile apps for Android and iPhone. All you need to get started is your library card and pin number. What are you waiting for? Jump in and explore the world!
Sedona Public Library is a 501(c)(3) non-profit corporation. The land on which our beautiful library sits was donated, and the library building was constructed with private funds and is entirely debt-free. Donations and grants allow us to continue to offer free and innovative services to residents and visitors. Your tax-deductible donation may be sent to: Sedona Public Library, 3250 White Bear Road, Sedona, AZ 86336.