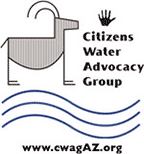 Prescott AZ (July 9, 2020) – Declining aquifer levels and the management of our finite water resources were among the many pressing topics discussed by local candidates in a series of video forums hosted by the Citizens Water Advocacy Group (CWAG). The six videos, one for each of five Yavapai County Board of Supervisors (YCBOS) district races and one for the Arizona House of Representatives race for LD 1, are posted for viewing at cwagaz.org. Click on "2020 Candidate Forums" under "Current Issues."
The forums were conducted on Zoom, a video conferencing platform, rather than in a public setting, in the interest of public safety during the pandemic. CWAG President Gary Beverly moderated the forums, which were recorded between June 25 and July 8. They were posted without edits.
The CWAG forums provided candidates an opportunity to tell voters what they would do to tackle unresolved water issues, such as groundwater pumping that exceeds water replenishment, and unchecked development and population growth. Each candidate was asked the same questions and was allowed a 2-minute answer with the opportunity to respond to what other candidates said. Participants also presented 1-minute opening and closing statements.
Candidates received the forum questions in advance. The CWAG Board drafted the questions, which focused on carefully selected water topics,  including safe yield, the regional management of water, protection of the upper Verde River basin, declining water levels in the Little Chino subbasin, which is the primary source of water for the Prescott Active Management Area, and the status of the Big Chino aquifer and pipeline. Candidates were invited to ask for more information on the questions.
The candidates who participated in each forum are listed below.
Legislative District 1 House: Judy Stahl (D), Selina Bliss (R), Judy Burges (R), Quang Nguyen (R) and Steven Sensmeier (R) 
Board of Supervisors District 1: John Lutes (D), Sherrie Hanna (R), Harry Oberg (R)
Board of Supervisors District 2: Brandi Bateman (R), James Gregory (R), Tony Ontiveros (R), Jody Rooney (R)
Board of Supervisors District 3: Randy Garrison (R), Donna Michaels (D)
Board of Supervisors District 4: Jane Anderson (R), Craig Brown (R), Rand Armstrong (LBT)
Board of Supervisors District 5: Mary Mallory (R), Brian Silvernale (R)
Managing water resources and reducing the rate of aquifer depletion continue to be challenges of critical importance that demand solutions from government leaders. This is the 16th annual candidate forum presented by CWAG with the purpose of educating voters and candidates about water issues and incorporating them into the political dialogue. CWAG is a local citizens group advocating for a sustainable water future for the Prescott region and central Yavapai County and for the protection of the upper Verde River. For more information, visit www.cwagaz.org, call 445-4218, or email info@cwagaz.org .