Sedona AZ (September 17, 2012) – The Sedona Arts Center will wrap up its weeklong Plein Air Festival by hosting a special Arizona Centennial Legacy exhibition about pioneer plein air artist Lillian Wilhelm Smith, Oct. 30–Nov. 10 at the Arts Center's Special Exhibition Gallery. The exhibit will culminate with a FREE lecture by art historian Dr. Betsy Fahlman on Nov. 10 at 1:30 p.m.
Lillian Wilhelm Smith (1881-1972) enjoyed a life filled with adventure, love, loss and art. Her story includes many of the "high points and low points" of Arizona history during the 20th century, including ten-years as owner-operator of a dude ranch in Sedona in the 1930s and '40s.
Born in Germany, Wilhelm Smith was enrolled at the prestigious Art Students League in New York at the age of 12; her art instructors included many of the most famous artists of the time. As a relative of Zane Grey, she was invited on his 1913 trip to Arizona's remote Rainbow Bridge to work as his illustrator, a job she held for decades.
Her life included marriage to Hashknife cowboy and war hero Jess Smith, with whom she operated a trading post in Tuba City, an orange grove in Phoenix, and a dude ranch in Sedona. She never learned to drive, so Jess would "scout" painting locations that she could reach on horseback and paint en plein air.
Lillian worked in all mediums—oil, watercolor, pen-and-ink and photography. Her award-winning paintings were exhibited at the Arizona State Fair and at the Arts and Crafts Fair at the Museum of Northern Arizona when those were the only venues for artists in the state. Her dinnerware designs for Leigh Ware Potters represent the first regionally-inspired Art Deco mass-produced dinnerware in the U.S., and were introduced in Arizona in 1927. A later pattern was developed for Goldwater's Dept. Store, and was influenced by Hopi design.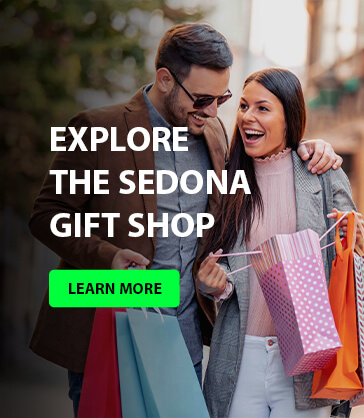 In Sedona, she is known to have hosted artist Max Ernst at her Sedona studio on Oak Creek; at one point Wilhelm Smith was an artist-in-residence at the Biltmore Hotel, and later at Amerind Foundation. Ultimately she became a resident of the Arizona Home for Pioneers in Prescott, Ariz., where she died in 1971.
This exhibition will feature oil paintings, photographs and examples of her illustrations and promotional work for Zane Grey, as well as her stunning dinnerware designs—all of which have been collected over the past 25 years by Sedona resident Fran Elliott, and in collaboration with the Arizona Committee for the National Museum of Women in the Arts (www.aznmwa.org). Donna Ashworth, Wilhelm Smith's biographer, has donated copies of her book Arizona Triptych, to be sold to benefit the Sedona Arts Center, which is exhibiting this work in honor of their 8th annual Plein Air Festival.
Dr. Betsy Fahlman, Prof. of Art History at Arizona State University will speak about the exhibition in the context of Arizona's Art History on Nov. 10th at 1:30 at the Sedona Arts Center. The exhibition will open to the public on Oct. 30th, with a special "First Friday" celebration, complete with Special Guest, at 5:00 p.m.
Please contact the Sedona Arts Center for further information: (928) 282-3809 or www.sedonaartscenter.com.