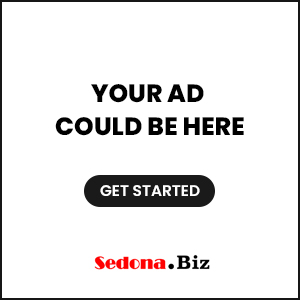 By Virginia Volkman, Library Director
Sedona AZ (July 25, 2020) – It's been my distinct pleasure to work with Karen Mack for just shy of ten years.  When she arrived in Sedona from Flagstaff I knew she landed in the right place.  And many others felt the same way.
In fact, Karen was recognized with the 2019 Outstanding Youth Services Librarian Award by the Arizona Library Association.  The letters of support for her nomination are heartfelt and heartwarming and I'd like to share some excerpts from the letters.
One speaks of Karen's "unwavering commitment towards improvement and growth, and her high level of compassion and devotion to the community.  This is demonstrated with her patient and helpful demeanor, as well as her procurement of a vast array of educational materials including games, science kits, tech toys, play structures, and art supplies through grants.
It is also shown in the way she interacts with youth:  when she is sitting at a computer to help a struggling teen with homework, guiding a restless child towards a book and listening to them read, or playfully challenging a child to try something new—whether it is a game of chess or a new genre of YA literature."
Another comments that "She has made visits to the local homeless center after work to communicate and develop a better understanding of issues facing our younger patrons.  Karen's sense of caring extends beyond her role as a librarian to one of a citizen who deeply cares about our community."
And finally, "The impact of Karen's many contributions are reflected in the stream of praise from local families and visitors from afar, in her relationships with coworkers who enjoy her friendship and professional support, and most of all, the number of child patrons who express interest in wanting to be a librarian.  I think this is the true testament of how Karen Mack is an exemplary model of her profession."
Before joining the staff at Sedona Public Library, Karen worked for eight years in a rural public library in Ontario, Canada and twelve years at the Flagstaff Public Library.  We were most fortunate to have Karen as part of our staff in Sedona. 
Karen will soon be leaving the area to move closer to her parents, children and grandchildren.  She says:  "This is truly bittersweet.  It makes me very sad to leave such a top notch, energetic, supportive group of professional people here at the library.  I will have the absolute best memories of this place and love you all."  
And we will have the very best memories of Karen doing story hours in the children's room and will continue to watch her engaging online story time recordings on the Library's website and Facebook page. 
Karen, we wish you the very best as you open a new chapter with your move.  It's been great working with you and we will miss your energy and positive spirit.  Bon voyage!