Sedona AZ (July 19, 2012) – Join us at Sedona's National Day of the Cowboy Celebration, an Arizona Centennial Official Event and an exciting part our local cultural heritage. Come to the FREE event on Saturday, July 28thrd from10:00 am to8:00 pm along presented by Sedona Main Street Program and The Red Rock Posse. There are "a whole lot of cowboy goin's on" along SR 89A and Apple Avenue in Uptown and at Tlaquepaque Arts & Crafts Village, thanks to our generous sponsors, contributors, the many businesses that host activities and to our volunteers!
Gunfights & Wild West performances by The Red Rock Posse will take place11 am – 1 pmand5 – 7 pm at the Cowboy Arena in front of Red Rock Western Jeep Tours on Apple Avenue. The 2012 World Champion Cowboy Action Shooters, siblings Jessica and Cody Kirkham of Sedona, will be honored at the Cowboy Arena and show their shooting form in some action with The Red Rock Posse. Then between1 – 5 pm, you can see Wyatt Earp – a tribute to the legend by his great nephew, plus quick draw competitions, bull whip crackin' and roping. You can event try your hand at roping, with or without a bit of cowboy instruction.  Latigo, a country band with the right chemistry and sound to get you up scootin' your boots to the latest country songs, will play throughout the afternoon. Make sure to visit with Bethany Braley, national spokeswoman for the National Day of the Cowboy Organization, and take a chance to win special cowboy memorabilia. So sit back and watch the non-stop action, dance to the music, visit and take photos with these folks, and enjoy Oak Creek Brews and Cowboy Club grilling Buffalo Bratwurst & Burgers on site all day from11 am – 8 pm.
You can also count on a great variety of cowboy/cowgirl activities all day plus live country & western music from 9 until midnight many locations along the sidewalks, plazas and patios throughout the event area.
Plaza on the corner of SR 89A & Forest Road, visit with the talented cowgirls of Southwest Arizona Sisters, Inc. from9 amto1 pm. They represent a premiere equestrian non-profit, better known as "SASI" that looks for opportunities to help promote our great state and the values of our western lifestyle by giving back to community and donating several volunteer hours to great organizations. These accomplished horsewomen from Phoenix have worked with some of the best in rodeo.
You can also meet the Arizona Rangers-Verde Valley Company between 10 am – 2 pm at Cheers Plaza. They help keep alive the traditions of the Old West, so stop by to get a picture with them and learn about the history of the Arizona Rangers. They are an unpaid, all volunteer, law enforcement support and assistance civilian auxiliary who work to preserve the tradition, honor, and history of the 1901-1909 Arizona Rangers.  Then make sure to stop back by Cheers Plaza for Line Dancing from 6 – 8 pm. Thanks to Jack Hillman, you can both watch demonstrations and learn to line dance. Jack will spend some time giving instructions, too.
Visit with a 'Cowboy's Best Friend' from 9 – 12 in front of Whiskers Barkery; you'll get to meet some great four-legged friends from the Humane Society of Sedona, there at Sinagua Plaza.
The Canyon Trails Cowboy Band will be entertaining from 9 am – 1 pm in front of The Lamb Shops just north of the corner of SR 89A &Jordan Road. This six piece group, featuring five vocalists who harmonize regularly at the Canyon Trails Cowboy Church in Sedona, are generously providing this complimentary performance.
Boots & Bustles Old West Social Club will be visiting with folks on the sidewalks along SR 89A. Dressed in period costumes, they're happy to join you in photographs and will help you learn about all the event activities today.
"Tex Wagner & Emmylou Dolly Lorretta South" perform at Made In Arizona in Oak Creek Marketplace from 11 am – 2 pm. Straight from the heartland of country music, Tex & Emmylou (Tom & Shondra) entertain with good ole rip roarin', knee slappin', toe tappin' country tunes and lots of audience participation! There will also be cowboys and saloon girls at the wine bar, ring toss around the cowboy boots for prizes and an occasional hold-up from11 am – 8 pm.
You'll find Cowboy Bob performing at Uptown Mall next to Sedona Movie Museum from11 am – 4 pm. He plays guitar and sings with a deep rich sound.
Harpy Trails will entertain from11 am – 1 pm in Sedona Arts Center. Ken and Lyn Mikell play a wide range of traditional music, with particular attention to the Celtic roots of cowboy music. From old time trail songs to the golden era of the radio and silver screen cowboy, Ken's rich vocals and Lyn's beautiful harp put a new twist on old time favorites. The music of the Old World found a new home at the hearths and campfires of the Old West. Ken and Lyn are proud to be a part of that continuing tradition.
Artist demonstrations abound between 11 am and 3 pm at Sedona Arts Center (the northern end of SR 89A in Uptown) in the gallery and exhibition hall. Multiple demonstrations will take place in two hour segments: From 11 am – 1 pm there'll be Margo Mitchell – Oil Painting, Mary Lois Brown – Oil Painting, Joanie Wolter – Sculpture, and Heather Kinkade – Gourds; From 1 – 3 pm see Mariann Leahy – Ceramics, Julie Ronning Talbot – Watercolor, and Jeannette Tuscher – Ceramics. Make sure to see the Joe Beeler Exhibit all day long; a Sedona artist and founding member of the Cowboy Artists of America, Joe lived the cowboy code of ethics and was loved by all.
Bladesmith Ray Rybar of Camp Verde, featured as one of the world's 100 top makers of forged blades, will demonstrate the art of knife making from10 am throughout the day at Sinagua Plaza. In the plaza, you'll also find a life-size cowgirl and cowboy cutout for photo opportunities, so stop by anytime of day or night.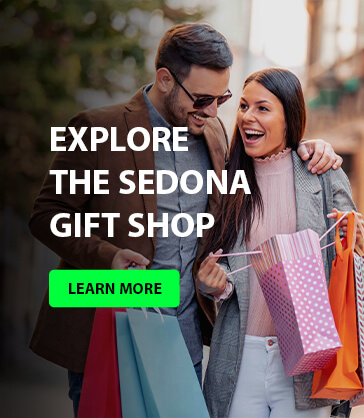 Canyon Breeze will be outside grillin' burgers and hot dogs and serving slices of pie from11 am – 7 pm in front of Canyon Breeze Restaurant. During that time you'll also hear live music outside. Jim & Jeanne Martin, 6 time National Harmony Yodeling Champions and members of the Blazin' M Ranch Cowboy Band, give a complimentary performance from11 am – 1 pm with Songs of the Old West as well as some Classic Country tunes. Later, listen to the Tor Brothers put a modern spin on country music during their complimentary performance from5 – 7 pm. This is an Uptown debut for these Sedona teenage brothers – Eli Torok Bachar is an award-winning vocalist and Joshua Torok Bachar is a composer/arranger who plays keyboard. Following that, Sammy Davis Band will be performing inside from7 – 11 pm.
Catch sight of gun, rope and whip tricks by Rock Hollidaynoonto dusk along the sidewalks from Cowboy Corral to Cowboy Club.
Tlaquepaque Arts & Crafts Village is hosting a line-up of activities all afternoon. The Leather & Lace Gunslinging Show is an action-packed fist fighting, gun fighting, Wild West performance presented by Six Gun Entertainment. Show times will be at1:00,2:00, &3:00 pm at Calle Independencia. The Coyote Brothers, Steve Douglas & Alan Harkrader, entertain from 12 – 3 at Patio del Norte, and the Two-bit Shotgun Band a five piece country oriented group from Phoenix play from 1 – 4 pm at Calle Independencia. Author Joe McNeill will be signing copies of his book "Arizona's Little Hollywood: Sedona and Northern Arizona's Forgotten Film History 1923-1973." And to support the effort to build a film history museum in Sedona there'll be a scavenger hunt to search Tlaquepaque for artifacts that will be on future display in 'Arizona's Little Hollywood Museum'. There will also be a special effects makeup table, where people can make a donation to the museum and get their faces painted with gunshot wounds or cowboy mustaches. For cowpokes with gumption, there will be a mechanical bull to ride (proceeds of which will be donated to the Museum), and for the little cowpokes there will be a Wild West Wagon bouncer. Watch out for roaming zombie cowboys, creepy characters from the award-winning Zaki Gordon Institute film "Dead West," which will be playing in the Tlaquepaque Chapel from12 to 4 pm.(every 30 minutes)
A new, original and family-friendly show "The Facts Keep Gettin' in the Way of the Story", a tribute to the Southwest's cowboy spirit, will be performed for free at 1:30 p.m. and at 3:00 p.m. inside Jordan Hall (air-conditioned) on the lower level of Wayside Chapel on SR 89A at the north end of Uptown. The Sedona Heritage Museum presents Michael Peach in these special free performances in celebration of National Day of the Cowboy.  The one-hour shows features a mix of Peach's original cowboy poetry together with jokes and historically-based stories illustrating the humor, heroism and hubris of some of the Southwest's most colorful characters, both factual and fictional.  His unique ability to combine accurate historic details with a tongue in cheek emphasis on quirky events has made him a longtime favorite of Sedona audiences.  This performance includes material from the writings of Arizona State Historian Marshall Trimble and will also feature the world premiere of Mike's newest poem, "Climax Jim", which tells the story of Rufus Nephews, one of Arizona's most notorious – and least dangerous – outlaws.  
Dave Rice Hearts Prairie Band is at The Good, The Bad and the Ugly Saloon in Sinagua Plaza from 1-5 pm, followed by The Renegades from 8 pm to midnight!
Robin Dean Salmon, an alt-country traditionalist on guitar and vocals, will perform at Tasting Arizona in Sinagua Plaza from 4 – 7 pm. For this South-African refugee raised on a Texas Longhorn Ranch, Americana music, undecorated and intelligent, resonates deeply.
Cactus Cats will perform from 5 – 8 pm between Taos Cantina and Sedona-The Early Years on SR 89A.  Mike & Lorena have put together a repertoire of country standards, cross-over favorites and songs that make you smile. Both Sedona performers bring rich backgrounds in musical performance and theater, having entertained at venues across the country for most of their lives.
Remember there are more gunfights and action at the Cowboy Arena on Apple Avenue from 5 – 8 pm, and the line dancing show and instructions by Jack Hillman from 6 – 8 pm at Cheers Plaza on the corner of SR 89A andForest Road.
Looking for tasty treats to satisfy your hunger? From11 am – 7 pm you'll find Cowboy Club grilling on Apple Avenue between Jordan Road & 89A, and more grilling in front of Canyon Breeze Restaurant along 89A. Of course, there are also many wonderful and varied full service restaurants, a number of which feature outdoor dining.
This event is possible because of the generous financial and service support of our community-minded businesses, organizations and our media partners, with the volunteer efforts of local folks. Huge thanks go to our Title Sponsor – Red Rock Western Jeep Tours and A Day in the West, Gold Star Sponsor – Sedona Pines Resort and Bronze Star Sponsor – Best Western Plus Arroyo Roble Hotel. Special thanks to our Star Contributors – The Red Rock Posse, BSE Rents, Sedona Now TV, DiBattista Construction, Inc., ProBuild, Florange Signs & Designs and Sedona Segway Tours. We're especially grateful for help from the City of Sedona & Police Department, Sedona Volunteer Park Rangers, Arizona Rangers, the friendly folks of National Bank ofArizonaand many individual volunteers.
Come watch the cowboys, hoot and holler for the gunfights, chow down on good food, step out and dance to great country music, watch great art and crafts in the making. If you feel the cowboy spirit move you, say "Howdy" to a stranger as if you have known 'em all your life!
National Day of the Cowboy was established in 2005 to recognize the character and values of the American Cowboy: honesty, integrity, courage, compassion, respect, patriotism and a strong work ethic. Please join us as we take the time to honor and celebrate that. For more information, visit www.sedonamainstreet.com.