Holiday Wrap-Up Party on Saturday, December 7th
Sedona AZ (November 21, 2013) – Now in its 40th year, Tlaquepaque Arts & Crafts Village, often referred to as the "Art and Soul of Sedona", is about to be awash in an explosion of community creativity. Ignite your inner holiday spirit and check out the popular week-long Festival of Trees celebration. It kicks off the holiday season the day after Thanksgiving, Friday, November 29th and runs through Saturday, December 7th, 2013 with the popular Holiday Wrap-Up Party on Saturday from 5:00 to 7:30 pm.
Elaborately decorated and artistically stunning holiday trees—some 60 plus—have been carefully crafted for weeks and sometimes months by Tlaquepaque galleries and their world-class artists, local restaurants, nonprofits, and a wide array of Sedona businesses. All the trees and the beautifully designed three-dimensional vignettes or holiday scenes can be viewed daily from 11:00 am to 7:00 pm at La Sala de los Milagros ballroom above Rene' Restaurant in Tlaquepaque. Admission is free and everyone is encouraged to vote for his or her favorite tree in a number of categories.
"Festival of Trees just keeps getting bigger and better with even more artful tree entries this year than last," reports Wendy Lippman, resident partner and general manager of Tlaquepaque. "We so appreciate the generous community support from our sponsors, and, as in years past, the proceeds will go to Toys for Tots, sponsored by the Sedona Marine Corps League, and the Meals on Wheels program which serves local residents through the Sedona Community Center. This will help many families in our area, especially at this time of year. In the past we have raised over $25,000 and hope to exceed that this year because the needs are so great."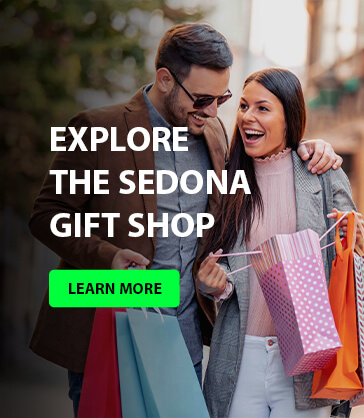 If you fall in love with a special tree-as-art, then bid on it during the week and be sure to attend the Holiday Wrap-Up Party on Saturday, December 7th from 5:00 to 7:30 pm to see if you are the winner. Enjoy the lively holiday silent auction, ongoing raffles, delicious edibles catered by Rosalie's of Sedona, fun music, tasty libations, and plenty of good cheer. "There is always an amazing array of fabulous silent auction items from our generous sponsors. You'll find beautiful seasonal gift baskets, art pieces, sought after local off-road tours, and romantic dinning. Don't forget to get your raffle tickets early. AS in years past, there are a number of high-end getaways and wonderful gift items perfect for the holidays," says Lippman. During the Holiday party prizes will be awarded for best trees-as-art in the following categories: People's Choice Award, Most Original Theme, Best Handcrafted/Home Spun Tree, and Most Outrageous. So be sure to cast your vote during the week or at the party. Admission is $20 per person or $35 per couple. Please call 928-282-4838 to reserve tickets.
For the youngsters a visit with Santa can't be beat. This year the jolly one drops by the Ballroom on several occasions: Friday, November 29th, 11 to 1:00 pm; Saturday, November 30th 4:00 to 7:00 pm; Friday, December 6th, 4:00 to 7:00 pm; and Saturday, December 7th, 12 to 2:00 pm.
Home to more than 45 shops and galleries and four restaurants, Tlaquepaque Arts & Crafts Village, located at 336 State Route 179 at the Oak Creek Bridge, is open daily at 10:00 am. For more information call (928) 282-4838, email info@tlaq.com, or visit: www.tlaq.com and for your online Holiday shopping, www.shoptlaq.com.