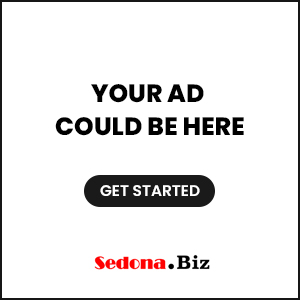 Sedona AZ (October 10, 2012) – "Hilarious," "Intelligent," "Provocative," and "Scorching," all describe Robert Dubac's new solo show Free Range Thinking. Combining theater with stand-up Dubac buckles us up for a fast paced joy ride over the pot-holed highways of cultural hypocrisy. Riding shotgun with intelligence and absurdity he crashes head first into the barriers of politics, religion and the media. Free Range Thinking is a roller coaster ride down the rabbit hole of lip service in search of the truth in a world that runs on hype and spin. It may be offensive to some, but there's laughter for all.
Robert Dubac's Free Range Thinking makes its appearance at Canyon Moon Theatre for a limited engagement beginning October 10. Tickets priced at $25 are on sale now by phone at 928-282-6212 or Basha's in West Sedona, and at Rycus Corners and Marketplace Café in the VOC.
Hailed by critics and audiences alike, Robert Dubac's shows are rare things: clever combinations of theatre and comedy. In the words of Sedona resident Nancy Robb Dunst, "It was a laugh out loud funny one man show; refreshing, unpredictable, contemporary and political. Not only that, but there is an aspect to it of self searching and spiritual healing; quite joyfully surprising, really. It's phenomenal…don't miss it, this kind of comedy is top rate!"
In Free Range Thinking, Dubac is our everyman venturing outside the box to ask big questions like, "Who am I? Why is the truth offensive? Is there a bigger picture? If I cheat on my voice of reason will it still talk to me?"
Luckily, his VOICE OF REASON calls him on his cell phone with instructions on how to assemble the Door of Truth. Once erected he opens it and dives head first into the hypocrisies of society in search of the Bigger Picture. And he's not alone. With mesmerizing ease he transforms himself into a cast of characters who all take turns beating the hornets' nest of hype and spin with the big stick of knowledge. It's all for one and one for all as they swing the Door of Truth open wide enough so Dubac can finally find his authentic self and wake from the coma of modern life.
If you like your satire served up with a clever intelligent edge; if you want to hear a voice that speaks as though it originated from inside of your own frustrated head; if you are tired of adolescent comedy generated by the mediocrity of television; don't miss Robert Dubac's Free Range Thinking! It's comedy on steroids. Think your funny bone can handle it?
Free Range Thinking performs Wenesday, October 10 through Saturday, October 13 at 7:30 PM Wednesday. You may view excerpts of the shows at www.robertdubac.com.
Canyon Moon applauds Allie Ollie Boutiques as a Season XV sponsor. Allie Olson, owner and buyer for these unique shops, has long been a supporter of the arts in northern Arizona. Allie Ollie outfits have been on stage at Canyon Moon since the store opened in the Oak Creek Factory Outlets. This show is also sponsored by Sterling Financial Services.
Full-time student tickets are $15. To purchase tickets or for information, call CMT at 928-282-6212. Canyon Moon Theatre is located in the Oak Creek Factory Outlets, three stores down from the GAP on Highway 179 in the Village of Oak Creek.