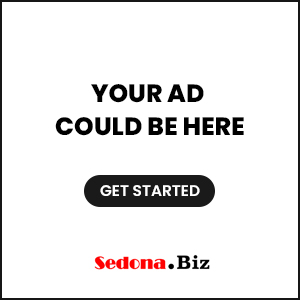 Sedona AZ (August 22, 2013) – This month's exhibition, "Give Peace a Chance" at Sedona Arts Center, offers something special. The artists in this month's exhibition hope to help shift the paradigm by focusing on those things that help us achieve peace and harmony in our lives. That's exactly why local artist, Joanne Hiscox has made a special offer to anyone who purchases her beautiful creation.
"I was working on this table during the Yarnell Granite Mountain fire incident. Every time I looked at the table's fire colors and rocky-river terrain, I thought of the Granite Mountain Hot Shot crew. To me, this table honors those 19 men and their heroic efforts."
In the hope that some sense of peace and harmony can eventually return to their lives, Joanne Hiscox is donating 100% of her proceeds from the sale of this table to the Granite Mountain Hot Shot Crew families.
A Liberal Arts degree, coupled with a MBA and 9 years' experience at a well-known consulting firm gave Joanne the confidence to go in new directions. In 1980, she co-founded a technical consulting company, devoting the next 20 years to its success and growth. Owning and operating a business provided endless financial, business and problem solving opportunities. During those "corporate years", Joanne's creative side was stimulated through extensive worldwide travel with her husband, soaking in cultural designs, styles and world famous works of art. Exposure to antiquities and treasures formed the basis of her artistic eye, palette and style. Early age retirement provided the opportunity for Joanne to pursue her artistic passion and interests.
Joanne is part of the Resident Teaching Faculty of the Sedona Art Center and, throughout the years, has participated in numerous Sedona Arts Center Juried Shows. Joanne is also is a member of GlasSedona, a fusion of 7 Sedona Glass Artists. Her interior and exterior custom architectural art commissions include mosaic installations, desks, tables, built-in shelves, wall art, wall mirrors, fused glass window coverings, fireplace surrounds, benches, fencing and lighting. Joanne's work, represented by galleries in Arizona, Colorado and Wisconsin, is in private residences and commercial venues throughout the United States and Canada.
The Sedona Arts Center is located at State Route 89A & Art Barn Road in uptown Sedona. The Galleries are open daily from 10 a.m. to 5 p.m. Sedona Arts Center is a 501(c) 3 nonprofit educational institution dedicated to nurturing creative discovery, learning and sharing through arts education and artistic development. For more information call 928-282-3865 or visit SedonaArtsCenter.org