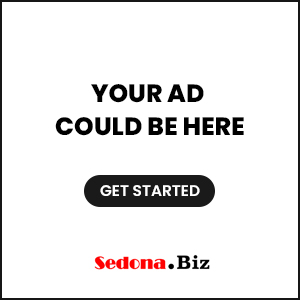 National Theatre of London is coming to Sedona June 30
Play nominated for 7 Tony Awards debuts on big screen at Mary D. Fisher Theatre
The National Theatre of London comes to Sedona on Saturday, June 30 when the Sedona International Film Festival hosts the big screen premiere of the outrageous British comedy "One Man, Two Guvnors." There will be one show at 2:00 p.m. at the festival's new Mary D. Fisher Theatre.
"Think of it as getting fifth row orchestra seats to the best show on the London stage, right here in Sedona," said festival director Patrick Schweiss. "This is the kick-off preview to the entire season of the National Theatre productions that we will carry in the coming year. We are excited to bring an event of this caliber to our city and our patrons."
"One Man, Two Guvnors" was nominated for 7 Tony Awards, including a win for Best Actor for James Corden. The comedy by Richard Bean is based on Carlo Goldoni's "The Servant of Two Masters".
James Corden stars as "Francis Henshall" ("one man"). Always-famished and easily-confused, Henshall agrees to work for a local gangster as well as a criminal in hiding ("two guvnors"), both of whom are linked in a tangled web of schemes and romantic associations — none of which Francis can keep straight. So he has to do everything in his power to keep his two guvnors from meeting.
"One Man, Two Guvnors" is, at its heart, a physical comedy. Falling trousers, flying fish heads, star-crossed lovers, cross-dressing mobsters and a fabulous on-stage band are just some of what awaits at the most deliriously funny new play in decades.
"One Man, Two Guvnors" is currently playing acclaimed productions in the West End and on Broadway where James Cordon was just awarded the Tony for Best Lead Actor in a Play.
Critics are raving about the play, calling it "the feel-good hit of the summer. An evening of riotous delight … I found myself physically incapable with laughter." (Daily Telegraph)
"A triumph of visual and verbal comedy. One of the funniest productions in the National's history." (Guardian)
"Slapstick, satire and gags galore: a classic comedy hilariously updated." (The Times)
"Sheer, joyous pandemonium. The moments of slapstick are so perfect, they're choreographically beautiful as well as funny." (Sunday Times)
"The single funniest production I've ever seen." (Mark Lawson, BBC Radio 4)
"One Man, Two Guvnors" will be shown at the Mary D. Fisher Theatre on one day only: Saturday, June 30 at 2:00 p.m. Tickets are $15, or $12.50 for Film Festival members. Tickets are available in advance at the Sedona International Film Festival office or by calling 282-1177. Both the theatre and film festival office are located at 2030 W. Hwy. 89A, in West Sedona. For more information, visit: www.SedonaFilmFestival.com.