Award-winning new independent films premiere at Mary D. Fisher Theatre
Sedona AZ (September 23, 2013) – The Sedona International Film Festival is proud to present the Northern Arizona premieres of "Hannah Arendt" and The Manhattan Short Film Festival showing Oct. 1-6 at the Mary D. Fisher Theatre.
HANNAH ARENDT
Critics and audiences are raving about "Hannah Arendt", calling the film "stimulating, inspiring and mezmorizing".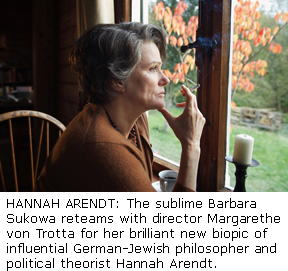 The sublime Barbara Sukowa reteams with director Margarethe von Trotta for her brilliant new biopic of influential German-Jewish philosopher and political theorist Hannah Arendt. Arendt's reporting on the 1961 trial of ex-Nazi Adolf Eichmann in The New Yorker — controversial both for her portrayal of Eichmann and the Jewish councils — introduced her now-famous concept of the "Banality of Evil."
Using footage from the actual Eichmann trial and weaving a narrative that spans three countries, von Trotta beautifully turns the often invisible passion for thought into immersive, dramatic cinema.
An official selection and major hit at the Toronto International and New York Jewish Film Festivals, "Hannah Arendt" also co-stars Klaus Pohl as philosopher Martin Heidegger, Nicolas Woodeson as New Yorker editor William Shawn, and two-time Oscar-nominee Janet McTeer (Albert Nobbs) as novelist Mary McCarthy.
"The light that Hannah Arendt's work brought into the world still shines. And because her work is invoked by an ever-increasing number of people, it becomes brighter every day," said director Margarethe von Trotta. "In a time when most felt obligated to adhere to a specific ideology, Arendt was a shining example of someone who remained true to her unique perspective on the world."
"Hannah Arendt" will be shown at the Mary D. Fisher Theatre Oct. 1-6. Showtimes will be 7 p.m. on Tuesday, Oct. 1; 4 p.m. Wednesday and Thursday, Oct. 2 and 3; 7 p.m. on Friday, Oct. 4; and 7 p.m. on Sunday, Oct. 6. (There are no screenings of this film on Saturday, Oct. 5)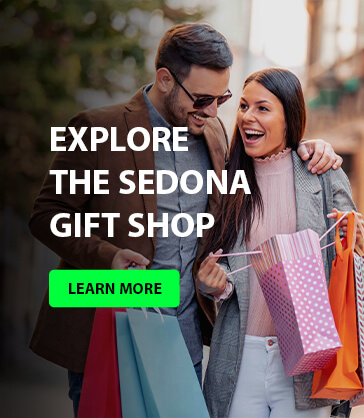 THE MANHATTAN SHORT FILM FESTIVAL
For the second year, the Sedona Film Festival will unite with audiences in over 300 cities spanning six continents to view and judge the work of the next generation of filmmakers from around the world when the 16th Annual Manhattan Short Film Festival screens at the Mary D. Fisher Theatre.
From a record breaking 628 entries received from 48 countries around the world, Manhattan Short selected 10 short films as finalists. Countries represented this year include the USA, England, Ireland, France, Finland and Australia. With past finalists achieving the ultimate in recognition by being nominated and even winning the Oscar in the short film category, Manhattan Short is known as a breeding ground for the next big thing in film.
The ten short films featured this year are: "#30" (Australia), "Do I Have to Take Care of Everything" (Finland), "Friday" (England), "No Comment" (France), "Irish Folk Furniture" (Ireland), "Black Metal" (USA), "Faces From Places" (France), "I Am a Great Big Ball of Sadness" (USA), "Kismet Diner" (England), "Pale of Settlement" (USA).
These 10 short films will not only entertain a global audience but will be judged by them as well. Filmgoers will be handed a voting card upon entry into a participating theater and asked to vote for the one film they feel should win. Votes are tallied at each participating cinema and submitted to Manhattan Shorts headquarters where the winner will be announced in New York City as well as posted on the Internet (www.ManhattanShort.com ) on Sunday, Oct. 6. For the first time, Manhattan Short will also name a Best Actor based upon audience voting.
The Manhattan Short Film Festival will be shown at the Mary D. Fisher Theatre Oct. 2-5. Showtimes will be 7 p.m. on Wednesday and Thursday, Oct. 2 and 3; and 4 p.m. on Friday and Saturday, Oct. 4 and 5.
Tickets are $12, or $9 for Film Festival members. For tickets and more information, please call 928-282-1177. Both the theatre and film festival office are located at 2030 W. Hwy. 89A, in West Sedona. For more information, visit: www.SedonaFilmFestival.org.