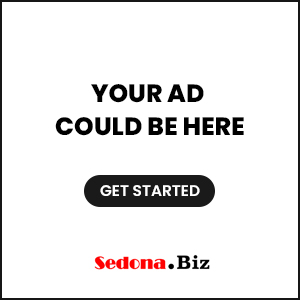 Sedona Film Festival hosts big-screen presentation of art series at Mary D. Fisher theatre
Sedona AZ (January 26, 2018) – Sedona International Film Festival presents the Exhibition on Screen series with "David Hockney at the Royal Academy of Arts". The event will show in Sedona on Monday, Feb. 5 at 4 and 7 p.m. at the festival's Mary D. Fisher Theatre.
The festival is proud to be the official host of the series, joining hundreds of theatres around the globe for this special exhibition on screen. Cinema guests can now enjoy unprecedented high definition access into the lives of renowned artists, their art and the fabulous museums and galleries that are the custodians of such masterpieces.
Widely considered Britain's most popular artist, David Hockney is a global sensation with exhibitions in London, New York, Paris and beyond attracting millions of visitors worldwide. "David Hockney at the Royal Academy of Arts" allows up-close access to this 21st-century master and his two recent blockbuster exhibitions held at the Royal Academy of Arts in London.
Featuring intimate and in-depth interviews with Hockney the film offers rare insights into the man behind such iconic works as "A Bigger Splash" and "A Closer Grand Canyon". In conversation with Tim Marlow (Artistic Director at the Royal Academy of Arts), Hockney reveals anecdotes from across his artistic and personal life — from his first trip abroad to Egypt in 1963, to the effects of the death of his close friend Jonathan Silver in 1997, right up to today.
The film also provides a rare chance to explore two of Hockney's landmark exhibitions from his late career, guided by the exhibitions' curatorial team and the artist himself. A Royal Academician since 1991, Hockney has a close relationship with the institution, creating both exhibitions specifically for the gallery spaces and thus making them entirely unique shows.
For his first exhibit — "A Bigger Picture" — Hockney returned to his native Yorkshire. This return to home was cathartic for Hockney and saw him capture the changing landscape through the seasons, using new techniques. Four years later for "82 Portraits and One Still Life", Hockney also adopted a new mode of working, inviting sitters to his studio with a strict deadline of three days for each portrait. The 82 finished paintings are themselves one complete work.
The film features expert insights from art critics Martin Gayford and Jonathan Jones, and Edith Devaney (Senior Contemporary Curator at the Royal Academy of Arts) who twice sat for Hockney to paint.
"David Hockney at the Royal Academy of Arts" will be shown at the Mary D. Fisher Theatre on Monday, Feb. 5 at 4 and 7 p.m. Tickets are $15, or $12.50 for Film Festival members. Tickets are available in advance at the Sedona International Film Festival office or by calling 928-282-1177or online at www.SedonaFilmFestival.org. Both the theatre and film festival office are located at 2030 W. Hwy. 89A, in West Sedona.