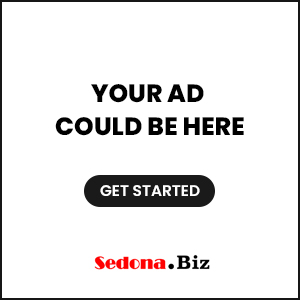 An unprecedented cooperative initiative among the Big Park Regional Council, Magical Journeys, Canyon Moon Theatre, the Sedona International Film Festival, Celtic Harvest Festival, and other Sedona, Verde Valley and Village of Oak Creek communities, Sedona Golf Resort Community Association, and golf club, businesses and organizations
Sedona AZ (August 28, 2012) – "If you had a magic wand…" was often heard as one of Mel Copen's favorite questions. Mel devoted two years as President of the Big Park Regional Coordinating Council to gather opinions on what residents of The Village wanted to see in their community. After that, under his leadership, the volunteer members of the Council developed a Vision Plan. When Mel's term as President on the Big Park Council concluded December 31, 2011 his dream was then to raise the funds to begin to make it happen. Ironically, he entered the hospital in Flagstaff that same day; and sadly and untimely, passed away in March. Just before that, while still in the hospital, he learned about the beginning of the Fund, and its initial fund-raising initiatives. Like a dream come true, the Mel Copen Vision Fund came into being. He knew, and was deeply thrilled.
Now, after months of brainstorming and planning, there are a series of "fun" (fund) raising events in place. This will begin to ensure a legacy of success for all of us who treasure living here, including, we hope, the creation of a community center. This, and more forthcoming events, represents an incredible circle of extended community support and participation.
Over the past few months, a wide range of friends and colleagues have been working together to make Mel's Vision become a reality. The first BIG event is scheduled on Tuesday evening, September 11, 6:00 pm at Cucina Rustica. It is the first benefit "fun" raiser for the Mel Copen Vision Fund.
Four years ago a similar event at Cucina Rustica was SOLD OUT! The theme is Tuscan countryside dinner served "family style". The exciting menu is designed to meet a wide array of dietary needs. Created especially by Chef Lisa Dahl, the menu is designed to honor Mel and to please Lisa's community of devoted clients. Diners will be treated to multiple meat and vegetable appetizers, all five entrée dishes, soft drinks and dessert. The cost of this extravaganza is just $60 per person, INCLUDING tax and tip. (Alcoholic beverages will be available for purchase). Lisa Dahl will contribute $5 from each dinner to the Mel Copen Vision Fund. Diners need to secure their reservations without delay, as this feast is likely to sell out.
Several special surprises will be happening during the evening. First, there will be a preview of a few of Mel's most desired photographs. These will then be for sale at the prestigious James Ratliff art gallery in Hillside Sedona September 21st until September 30th. Anyone who buys one of Mel's works during this special exhibit will be able to write a check directly to the Mel Copen Vision Fund. During this unique setting 100%of the purchase price will go to the Vision Fund, and therefore will be tax deductable for the buyers.
The Auction. A limited number of Mel's framed art works will be auctioned off during the evening of September 11th. These pieces will NOT be for sale at the Ratliff Gallery and only available during this event. Again, checks can be made out directly to the Mel Copen Vision Fund, and the fund will benefit from 100% of the money raised.
During the evening at Cusina Rustica, guests can also register for a special door prize. The winner will receive one of Mel's special photographs. The drawing will be held on September 22nd during the exhibit at James Ratliff Gallery.
RESERVATIONS: Advance reservations are a must. CALL Cucina Rustica @ 928-284-3010. Gather your circle of friends and choose where you desire your table (or tables) to be! Have a group of 15 – 18? You can reserve the beautiful and private back dining room for yourselves! Have a group of 35-40? The delightful side room near the front can be saved for you. First come, first reserved. Want to have a table near the fireplace? You get the idea. Everyone coming will be able to enjoy the fall serenity of the Sedona Red Rocks while feasting al fresco on Lisa's sumptuous cuisine.
It is not so surprising to me or to anyone who knew Mel that, even in death, he is still serving and inspiring our community with ideas to enhance our everyday lives. Please join us at this delightful event on September 11th, and watch for the future Vision Fund events coming throughout the fall and beyond.
Cucina Rustica
Reservations: 928-284-3010
7000 Arizona 179, Sedona, AZ 86351
In the Tequa Plaza Marketplace