Sedona AZ (September 19, 2012) – This October, experience the vibrant fall exhibition "Color Galore" at Sedona Arts Center's Fine Art Gallery in Uptown Sedona from October 5­30, 2012. As the leaves change and the sky clears, artists Kathryn Willis, Susan Moody, Jullie Ronning Talbot, Komala Rohde and Luna Patterson share their unique perspective and abundant colors in this brilliant show. Join us First Friday October 5, 2012 from 5 to 8 p.m. for our Opening Exhibition and experience "Color Galore!"
This month's artists were chosen to represent the beautiful changing season, stunning skies and vibrant colors that October brings to Sedona. Each artist uses vivid colors in all their works. Kathryn Willis' use of pallet knife and vibrant colors always make her work stand out in a crowd. Susan Moody's glass sets her apart with brilliant mirrors and glass bowls unlike anything you've seen. Julie Ronning Talbot is known for her beautifully painted florals and unique tractor themes. Komala Rohde works in brass, pearls, copper and precious metal clay to create amazing jewelry you are sure to love! Luna Patterson's pit-fired hand-built pots are unique in color and design.
Sedona Arts Center features a new themed exhibit each month with truly outstanding local artists. We have the largest selection of fine art in all styles and mediums you will find in Sedona! From exquisite jewelry to bronze sculptures, we have something for everyone. Our Fine Art Gallery is open daily from 10 a.m. to 5 p.m. with Opening Receptions every First Friday of the month from 5 to 8 p.m. Visit Sedona Arts Center first, where more than 400 artists teach, study and follow their passion!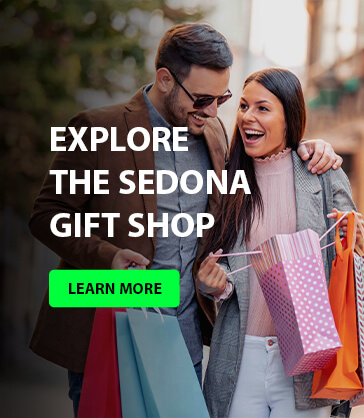 The Sedona Arts Center is located at State Route 89A & Art Barn Road in uptown Sedona. The Galleries are open daily from 10 a.m. to 5 p.m. For more information call 928-282-3809 or visit SedonaArtsCenter.com.