By Brenda Tammarine, Human Resources Manager
Sedona AZ (May 8, 2012) – In an economy where usually one of the first monetary reductions is the arts, the City of Sedona has proudly established itself as a city dedicated to the arts.  Although funding has been reduced due to the economy, this has not deferred the City's commitment to both art and culture.  For example, in the current fiscal year, arts and culture organizations received sixty-two percent of the funds available for Arts and Culture, Community Building, and Economic Stimulus Grants.  In addition, the City Council has proposed an extra $30,000 for this fund, bringing the total to $150,000.
Wonderful examples of this dedication can be seen all over Sedona.  Drive into Sedona from three different locations and take in the beauty of artistic, welcoming signs.  Journey toward the post office to view the newest roundabout art titled Above and Beyond.  Or perhaps go on a relaxing stroll through one of the City's pocket parks such as the Botanical Gardens to observe playful bronze jackrabbits, javalina and coyotes.
How important is arts and culture to the City of Sedona?  Exceptionally important.  Whereas most cities simply build new sidewalks, the City not only built a new sidewalk at Posse Grounds Park, but embellished it with lively children cut from steel.  Even normal park benches receive special treatment with an artistic flair.  Visitors and citizens alike can sit on a cozy bench while engaging, metal javalinas peek out from under the seat.
One of the City's brightest stars of its public art collection is Clyde Ross Morgan's "Red Rocks and the Cowboy Artist."  This statute of a smiling cowboy, painting the red rock vistas while a little girl eagerly watches his progress, entertains thousands of visitors in the uptown area each year.  Another beautiful bronze statute, which enthusiastically greets all library visitors, is of our namesake, Sedona Schnebly.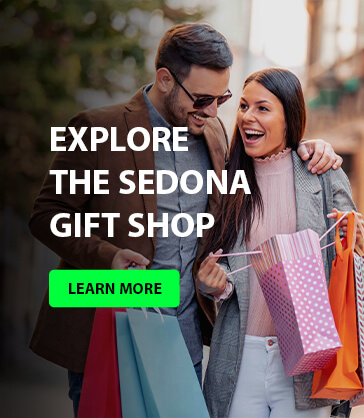 Although this collection of public art can be seen throughout Sedona, City Hall also contains a large amount of public art for visitors and residents to enjoy.  In the Administration building, visitors can revel in large photographs of Sedona's four seasons.  Nearby, in the City Manager's conference rooms, is a permanent portrait gallery of historical citizens, as well as a quarterly art exhibit that highlights the work of local artists and art groups.  Since these captivating sculptures, paintings, and photographs are just a few from the City's collection, we encouraged you to visit the entire assembly on our website under Arts and Culture at www.SedonaAZ.gov.
The City of Sedona has established an extraordinary display of public art work; however, the City is also highly dedicated to educating our children about arts and culture.  The Artist in the Classroom Program is City-funded each year in order to provide valuable arts education to area classrooms.  This superb program reaches hundreds of Sedona students each year with over two dozen experienced art teachers visiting classrooms ranging from Kindergarten through high school. 
Due to a realization that art education is a priority in our community, the Sedona City Council recently, and proudly, proposed more funds to this vital program.
Art is firmly embraced in our beautiful city and continuing to thrive.  The future for art in Sedona includes upcoming roundabout art projects, murals, exhibits, and perhaps most important, an ever-growing commitment to arts education. We are truly a city not only animated by the arts, but devoted to the arts.