Sedona AZ (September 17, 2013) – Live vicariously through October's spectacular artists at Sedona Arts Center as they Capture the Moment from October 4-29, 2013. Beauty is in the eye of the artist as Mike Koopsen, Deanne McKeown, Mary Flaisig and Christine Debrosky share their individual perspectives. Join us First Friday October 4 from 5 to 8 p.m. for our opening reception in our Fine Art Gallery in Uptown, Sedona.
Each artist brings something unique and exceptional to this month's exhibition at Sedona Arts Center. Nature photographer Mike Koopsen hopes his images will inspire others to seek out a richer more personal connection with nature and increase awareness of the fragile and precious nature of our environment and the need to protect it for future generations. Deanne McKeown endeavors to share her thoughts and vision through form and color through her sculptures and brilliant jewelry. Mary Flaisig weaves on a structure of rattan that she builds on branches of Manzanita wood to express movement and color. Christine Debrosky's impressionist work celebrates the rhythm of life in everyday moments and ordinary corners transformed by the dance of sunlight and shadow.
Save the Date! Don't forget, also this month Sedona Arts Center hosts the 9th Annual Sedona Plein Air Festival from October 19 through 26, where 30 nationally known artists compete for awards, paint out in historic locations and share their amazing talent! This year's event will include the traditional Main St. Paint-Out as well as an all-new Native American Legacy Series in partnership with the Sedona Culture Collaborative. Don't miss it!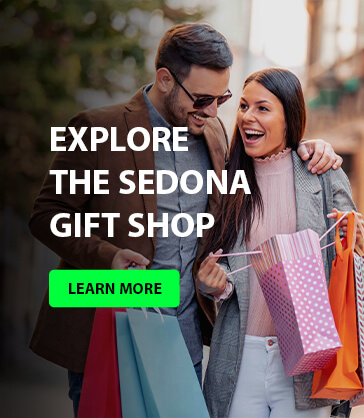 Visit Sedona Arts Center first, where more than 400 artists teach, study and follow their passion! Sedona Arts Center features a new themed exhibit each month with truly outstanding local artists. We have the largest selection of fine art in all styles and mediums you will find in Sedona! From exquisite jewelry to bronze sculptures, we have something for everyone. Our Fine Art Gallery is open daily from 10 a.m. to 5 p.m. with Opening Receptions every First Friday of the month from 5 to 8 p.m. Sedona Arts Center is a 501(c) 3 nonprofit educational institution dedicated to nurturing creative discovery, learning and sharing through arts education and artistic development.
The Sedona Arts Center is located at State Route 89A & Art Barn Road in uptown Sedona. The Galleries are open daily from 10 a.m. to 5 p.m. For more information call 928-282-3865 or visit SedonaArtsCenter.org