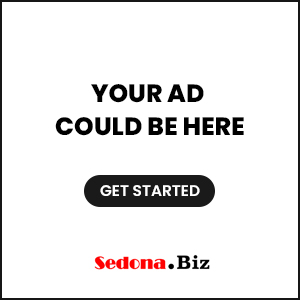 Sedona AZ (May 16, 2012) – "In Sedona's early days, life revolved around farming and cattle and after a long day in the saddle, " recounts Susan Kliewer, one of the Southwest's most acclaimed sculptors, "cowboy ranch hands would stand around swapping tales." Soon the bronze statue of a cowboy, a six foot tall reminder of those days long gone by will be dedicated at the Jordan Historical Park near the home of the Jordan family – now the Sedona Heritage Museum. "His clothing, chaps, hat and boots will reflect the old days of the cowboy," says she. "He's been dubbed 'The Storytellin' Cowboy.'"
Observes Sedona Historical Society president Bill Levengood, "As a picture is worth a thousand words, so a statue can convey a thousand ideas. This beautiful bronze statue in Jordan Park will say 'this is the place where history is found.' It will tell visitors that this community, this city, values its history and its heritage, and is very much in keeping with the city's original intention for Jordan Historical Park as a place to teach and celebrate the history of Sedona."
To date, the artwork has been valued at approximately $60,000 and additional fundraising is being launched to add at least two bronze statues of children, also in period dress, sitting on stumps in a semi-circle around the statue of the cowboy. It is expected that this arrangement will encourage visitors to make themselves part of the gathering for photo opportunities and general enjoyment of the sculpture. It is also hoped that an audio interactive feature will be available so people can hear some of the cowboy stories of yesteryear.
In another example of Sedona being a city animated by the arts, this project began with a donation to the City by the decades old non-profit Red Rock Arts Council (RRAC). The first such project was the 10-foot high Sedona Schnebly monument installed at the Sedona Public Library in 1994, funded through RRAC's sponsorship of the late, lamented Sedona Sculpture Walk and sales of the Schnebly maquette. "Susan won the competition in 1992 to create that piece," states Harriet McInnis, RRAC president, "and we are delighted to be working with her again." The maquettes of the cowboy are now on view at the Heritage Museum, the Sedona Public Library and Enchantment Resort. They are available for purchase at the initial price of $1,950. After the first five sell, the price will increase to $2,200. There will be an edition of 55.
Plans call for the installation this coming September to honor Sedona'searly pioneers and in celebration of the Arizona Centennial. For more information, please call Harriet McInnis 282-0788 or Geri Jahnke 282-1074 – Red Rock Arts Council; or Bill Levengood 282-0738 Sedona Historical Society.