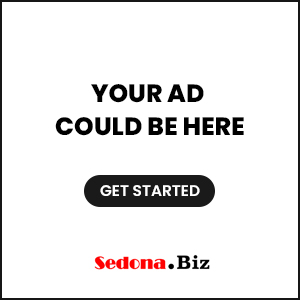 Sedona Film Festival hosts big-screen presentation of Broadway plays at Mary D. Fisher theatre
Sedona AZ (February 9, 2018) – Sedona International Film Festival presents the BroadwayHD series — featuring Broadway plays and musicals in high definition on the big screen — with "Ernest Shackleton Loves Me". The event will show in Sedona on Sunday, Feb. 18 at 4 p.m. at the festival's Mary D. Fisher Theatre.
"Ernest Shackleton Loves Me" is a wildly inventive musical adventure that tells the story of a sleep-deprived single mom who struggles to balance her family and career as a video game music composer.
Late one night, while posting a dating video, she receives an unexpected response from the polar explorer Sir Ernest Shackleton (1874-1922), one of the most iconic leaders of the 20th century. Shipwrecked and stranded on an iceberg in the Antarctic, Shackleton reaches across space and time to share his heroic journey with her.
Against all odds, they discover that their greatest inspiration lies within each other.
"Ernest Shackleton Loves Me" won the 2017 Off Broadway Alliance Award for Best New Musical. The production stars Wade McCollum and Valerie Vigoda.
"Exhilarating. An intrepid new musical." — The New York Times
"So original that spectators sit through it with jaws dropped." — The Huffington Post
"Inventive and big-hearted." — Time Out New York
"It is like having fifth row orchestra seats to the best theatrical productions from Broadway," said festival director Patrick Schweiss. "Experience these grand, phenomenal stage productions from New York from the best seats in the house — right here in Sedona!"
"Ernest Shackleton Loves Me" will be shown at the Mary D. Fisher Theatre on Sunday, Feb. 18 at 4 p.m. Tickets are $15, or $12.50 for Film Festival members. Tickets are available in advance at the Sedona International Film Festival office or by calling 928-282-1177 or online atwww.SedonaFilmFestival.org. Both the theatre and film festival office are located at 2030 W. Hwy. 89A, in West Sedona.