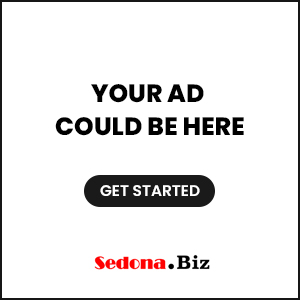 By Stephen DeVol, Publisher, Sedona.biz
Sedona AZ (July 4, 2012) – It was 8 in the morning on June 18, 2012. The sun was already high in the sky, and it was hot. I walked past mounds  of red dirt, and then, there it was: a flattened 100′ diameter plastic sheet.  Thirty or so dignitaries from the community were gathered to commemorate this historic  event and see the flat sheet become inflated. I scrambled up one of the tall mounds of red dirt and rocks that suggested this was going to be a more difficult ascent than I thought. Reaching the top, I saw cameras to the left, cameras to the right. So much for an original vantage point. I set the camera to run continuously during the inflation.
"Today is the huge culmination of our dreams", said Madeleine O'Callahan, President of The Friends of the Posse Grounds Board.
The event marked another milestone in Sedona history. After 11 arduous years, the reality of Barbara's Park is taking shape. Literally. What was flat is now a semi circle. A dome, to be exact. Today, the future shape of the Barbara's Park was revealed.
The dome is 100 feet in diameter and 25′ high. The dome will be finished from the inside, with stucco and rebar making the structure solid. The estimated completion date is sometime in November. The first venue may be a concert, with dates and commitments for events pending until the dome is closer to completion.