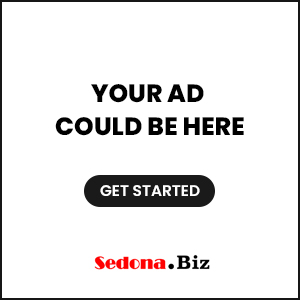 Sedona Film Festival hosts two-night world-wide traveling tour at Performing Arts Center
Sedona AZ (February 22, 2018) – The Banff Mountain Film Festival World Tour is returning to Sedona. For the fourth year, the Sedona International Film Festival is bringing the spirit of outdoor adventure and mountain culture to red rock country. This year's screenings feature the world's best mountain sport, culture and environmental films, letting you experience the thrill and challenges of the mountain environments that inspire us all. 
The Sedona tour stop has been expanded to two nights again this year: Tuesday, March 6 and Wednesday, March 7 at 7 p.m. at the Sedona Performing Arts Center. Each night will feature a different program of films. Audience members can attend either one of the nights or get a package discount to attend both evenings.
The Banff Centre's Banff Mountain Film Festival is the one of the most prestigious mountain festivals in the world. Hot on the heels of the festival held every fall in Banff, Alberta, the Banff Mountain Film Festival World Tour hits the road with stops planned in about 550 communities and 40 countries across the globe.
"Like every year, the Banff Mountain Film Festival brings exciting program to the screen, allowing everyone to experience these inspiring stories that drive us to keep exploring our world outside," said Patrick Schweiss, director of the tour host Sedona Film Festival.
Traveling to exotic landscapes and remote cultures, and bringing audiences up-close and personal with adrenaline-packed action sports, the 2017/2018 World Tour is an exhilarating and provocative exploration of the mountain world.
From approximately 400 films entered into the annual festival, award-winning films and audience favorites are among the films chosen to travel the globe.
Featured films on Tuesday, March 6 include:
Surf the Line: For The Flying Frenchies, thinking out of the box isn't a choice – it's a way of life.
Loved by All: The Story of Apa Sherpa: Apa Sherpa has climbed Mount Everest 21 times, but he wouldn't wish this upon anybody. Having grown up in the remote Khumbu region of Nepal, Apa was forced to leave school and work as a porter at the age of 12. For Nepal's rural people, the income earned as a high altitude porter conflicts with the dreams made possible only through education and knowledge.
Into Twin Galaxies – A Greenland Epic: Three National Geographic "adventurers of the Year" embark on an insane kayaking mission in Greenland. With kite skis they tow their white water kayaks over 1000 km of the Greenland Ice Cap to reach the most northern river ever paddled.
Ice Call – Backyards Project – Sam Favret: Try to keep up to freerider Sam Favret as he gives us a new perspective of the mythical Mer de Glace, at the heart of Mont-Blanc.
The Frozen Road: Ben Page sought an adventure of perfect solitude in the Canadian Arctic. Yet the harsh truths of travelling in such a formidable environment were a long way from the romanticisms of a Jack London book.
Denali's Raven: For climber, skier, and guide Leighan Falley, the mere sight of the Alaskan wilderness elicits an insatiable wanderlust. To reconcile her adventurous spirit with the demands of parenthood, she would need to learn to fly.
Intersection: Micayla Gatto: Mountain biker Micayla Gatto takes the viewer into her world as a painter and as an athlete, riding through beautifully created masterpieces where colours come to life and reality blends with art.
Stumped: Maureen Beck has never let the fact that she is missing her lower left arm hold her back from climbing. She doesn't want to be considered a good one-armed climber, or a good female climber…she just wants to be a plain good climber.
Featured films on Wednesday, March 7 include:
Where the Wild Things Play: There's an ongoing discussion of why there aren't more females in the adventure industry; whether it's in big mountain skiing, climbing, or whitewater kayaking. Well, it's about time we found out Where the Wild Things Play!
Sky Migrations: Each fall our skies fill with the wings of migrating raptors, a migration that relies on two hemispheres worth of wild and healthy ecosystems. Join ecologist and filmmaker, Charles Post, as he shines a light on the network of backcountry scientists and sentinels at the front lines of raptor conservation.
La Casita WIP: Two girls from Ecuador have a dream of building their own dirt jumping track in their backyard. So they get to work.
Kilian: Kilian Jornet is considered the greatest mountain runner ever. But he doesn't consider himself a runner. Join Kilian in his new backyard in Norway as he attempts to ski and run the Seven Summits of Romsdalen in a single day, a 77 kilometre route with 9,000 metres of elevation gain.
Winter on the Blade: It's not the tallest mountain in the world, it's not even the tallest in Australia, but fewer people get to the summit of Tasmania's Federation Peak these days then get to the summit of Mt Everest. And Mark Savage and his intrepid team of climbers hope to summit during the wettest winter on record.
DreamRide 2: Poetic, artistic and inspiring, ride along as we traverse volcanic fields, explore hidden lava caves, and race down rivers of ice.
Johanna: For freediver Johanna Nordblad diving under the ice provides a surreal, calming environment that helps heal her injuries.
WHY: Iceland. A cold, rugged and forbidding landscape where powerful rivers plunge through bedrock gorges, over massive waterfalls toward the sea. A crew of French kayakers travel here to ask the question, "Why? Why do we do this?"
My Irnik: Originally from Montreal, Conor falls in love with the northern way of life, and a woman, in the Canadian Arctic. Now the young father helps to pass on the native traditions and ancestral culture to his son, as he learns them himself.
Imagination: Tom Wallisch: Have you ever been that little kid sitting in the back seat of your parents' car, wishing you were somewhere else? So you imagine a skier on the side of the road, your fingers commanding back flips and roof drops, improbable rail slides and huge airs. Well, what if your imagination came to life?
Join the Sedona International Film Festival and film and adventure enthusiasts when the Banff Mountain Film Festival World Tour brings the spirit of outdoor adventure to Sedona, at the Sedona Performing Arts Center (995 Upper Red Rock Loop Road) on Tuesday, March 6 and Wednesday, March 7 at 7 p.m. each night.
The Banff Mountain Film Festival World Tour stop in Sedona is made possible by a generous grant from the Leo & Rhea Fay Fruhman Foundation.
Tickets for each individual night are $20 general admission; $17 for film festival members and students. A two-night package discount is offered to attend both evenings: $35 general admission and $29 for film festival members.
For tickets and information visit www.SedonaFilmFestival.org or call 928-282-1177.