The Best Place to Stay & Play on Your Next Vacation

Sedona AZ (January 23, 2020) – Stretching out under sapphire blue skies, surrounded by ruby red rocks, and nestled among the emerald green trees is the hidden gem we call "The Village of Oak Creek." 
(The maps call it that too.) 
The Village (or VOC) is a suburb of Sedona with a Sedona address but without the Sedona traffic. Savvy travelers stay in the VOC because they know they can have all the fun of a Sedona vacation without the hassle. They can easily hike, bike, or just watch the sunset paint the glorious red rock formations such as Bell Rock, Castle Rock, and Courthouse Butte with gentle hues of coral and pink right here in the Village! 
Vacationers conversant on all things Sedona know that if they want to play golf, they need to be in the Village of Oak Creek. 
Why? 
For one thing, there are no golf courses in Uptown Sedona or West Sedona…but there are three world class courses in the Village of Oak Creek! 
Designed by the father-son professional team of Robert Trent Jones Sr. and Jr., the Oakcreek County Club is work of art, a masterpiece of design which features classic tree-lined doglegs and gorgeous greens nestled among the red rocks. The course is recommended because it is "player friendly" since there is always an opportunity to get any errant shots back into play and recover!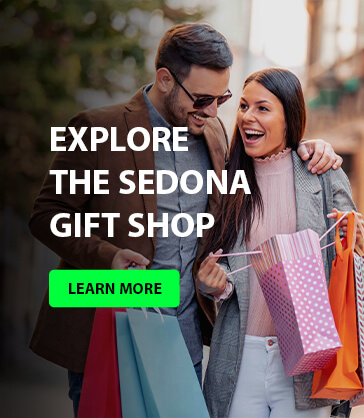 But wait! There's more golf in the VOC! 
Canyon Mesa County Club is a nine-hole course which nurtures golf novices but also challenges experienced golfers.  With its "target golf" course, it features narrow fairways that lead into difficult greens. Those who don't hit the ball as far as they used to love this course because of its shorter lengths. With over 77% of those on TripAdvisor rating this course as "Excellent," this is a great place to play! 
The third golf course is the Sedona Golf Resort at The Ridge. Golf Digest gives this course four-star reviews for its exceptionally challenging course surrounded by jaw-dropping splendor—which makes Sedona Golf Resort one of the world's most unforgettable golf experiences. 
While certain travelers find a spiritual experience on the golf course, others seek to experience a vortex, a place where people believe energy flows into or out of the Earth which amplifies their prayers or meditations. Savvy travelers stay in the Village of Oak Creek because they have easy, traffic-free access to the vortexes at Bell Rock and Cathedral Rock, two of Sedona's four famous vortexes. 
Since up to 6,000,000 tourists per year visit Uptown and West Sedona, the traffic congestion has multiplied. That's why destination visitors stay in the Village of Oak Creek. Here, the night sky stretches out like an indigo velvet blanket sparkling with millions of golden stars. Since the VOC is in the Dark Sky Zone of the Lowell Observatory, there is very little light pollution. Those with romance in their hearts thrill to the nighttime celestial dance of the stars. Those with telescopes are overjoyed to see heavenly bodies they can't see in the city due to light pollution. Sitting outside at night, soaking in the wonder of the stars is an exquisite opportunity to let go of the hectic bustle of the day and relax, relishing the splendor of a bespangled night sky. 
And with these luminous stars in an expansive night sky, there is another gift: the peace of a quiet night. Savvy travelers prefer to sleep in peace in the VOC rather than put up with the noise of another Sedona night. 
Book your next Sedona stay out of the traffic and into the quiet of the Village of Oak Creek, Arizona's hidden gem!
Sedona Village Business Association is an Arizona non-profit corporation.