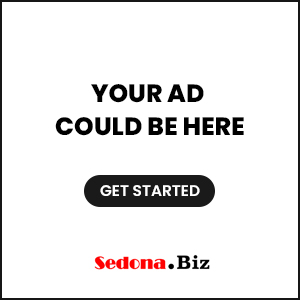 Sedona AZ (February 8, 2018) – Musicians Anthony Mazzella, Kel Mockingbird and Peter Sterling will be teaming up for a concert of beautiful music on Saturday, Feb. 17 at Mary Fisher Theater at 7 p.m. The Kokopelli Concert will consist of Native American flute, guitar and harp. The synergy between the three artists create a sonic landscape that is in tune with the spirit of Sedona. The legend of Kokopelli represents different things to different people and is a fun and interesting topic to research. In the context of this concert, Kokopelli represents the musical spirit of the southwest.
Kel Mockingbird
Kel Mockingbird of the Dineh Navajo Nation has been performing the Native American Flute and telling Medicine Stories of the Dineh for the past 26 years with six recordings as Burning Sky. His Sacred Fire album was nominated for Best Native American Album, and he came home with several awards from the Native American Music Awards as well as the Flagstaff Music Awards. He has performed for the Clintons Presidential Inaugural Ball 1996, Olympics 1998, and Jackson Brown's Verde Valley Festival 2003.
Mockingbird describes his music as "Buddha raised on fried bread. His music is quietly uplifting to create a centered feeling and his emotive soft woodwind notes and breathy trills evoke the images of the Southwest. In concert, he claims to float the listener above the sounds of birds in a morning meadow and says it's almost possible to picture the round, woody flute tones resonating between an elk's spreading rack.
Mockingbird's solo release, Sacred Fire, revisits his roots and the pure joy of learning to play his first flute, given to him by his Uncle Irvin. The album offers eight beautifully simple Navajo flute solos accented only by subtle natural sound effects. His five previous Canyon Record releases in the multi-instrumental trio Burning Sky include the 2003 Grammy-nominated Spirits in the Wind with Doors drummer John Densmore. Visit www.kingbirdmusic.com to hear Kel's music and learn more about this special artist.
Peter Sterling
Celebrated Harpist Peter Sterling's life is a reminder to all who offer themselves as an open vessel for the Divine, that there's no stop button once Spirit unleashes its creativity. Peters response to his heavenly calling 25 years ago, blossomed into an endlessly-creative multi-media career, spanning 16 studio albums, numerous Music Awards, a book called Hearing the Angels Sing, and an impressive series of crystal-frosted Mandala art prints — enough to fill a gallery. Peter also creates sacred geometry Stained Glass art, and presents dynamic workshops on the science of sound healing & sacred geometry.
With thousands of worldwide fans, Internet-radio airplay streaming constantly around the globe, and a Vibrational Healing series of albums, Peter says his 16th studio album Sacred Visions is a different kind of benchmark: it encapsulates his life experience in the legendary red rock paradise of Sedona. The album also celebrates the coming together of familiar talents on this rhythmic contemporary gem, bursting with danceable world beats and infectious multi-cultural grooves. Blending the accompaniment of studio whizzes Bruce Becvar, Robin Miller, and Fitzhugh Jenkins, along with popular New Age/Smooth Jazz artists Hans Christian, William Aura, and Third Force, it is every bit healing and reflective as it is pure joy. Sacred Visions will likely make your body irresistibly move and groove.
Little did Peter know that one day his angelic music would garner testimonials from around the world for its miraculous healing effects: softening the hearts of the dying at the moment of their transition and used by mothers at the time of birth and to ease their autistic children's suffering. For many, it has become the quintessential healing soundtrack for meditation and massage.
A favorite on Internet radio such as Pandora, Sirius, XM Satellite, and Soundscapes Radio as well as United and American airlines, Peter scarcely dreamed that his music would have a massive worldwide audience back when he was recording his first 8 tracks on a cassette tape in Byron Bay, Australia and marketing it on foot around Sedona with its hand-drawn cover art. Now, through Internet Radio, CD, DVD, his website, and countless other forums, Peters angelic music will continue to reach the masses, heal lives, balance brains, open hearts, and connect people to their innate spiritual essence.
Anthony Mazzella
Anthony Mazzella began studying music on the violin at age five. He then proceeded to learn the rudiments of music on piano until falling in love with the guitar at age thirteen. Throughout his adolescence he studied with several private guitar teachers, but Anthony attributes the greater part of his education to ear training. His influences are many, but none more profound than the music and techniques of guitar masters such as Michael Hedges, Pat Metheny, Carlos Montoya, Eddie Van Halen, Andres Segovia and countless others. In the nineties Anthony shared his musical insights by teaching at Knopf Music (where he once took guitar lessons), as a private instructor, and at the Long Island School for Music and Arts. Anthony was also one of the few chosen understudies of world renowned guitar master Stanley Jordan.
Anthony began his performance career as a concert guitarist in New York City. He quickly built up a strong following performing in most every live music club in Manhattan including: The Bitter End, CBGB's, Cat Club, Cafe Wah, Birdland etc. Anthony then landed a headlining spot at the Blue Note NYC just one year after street performing in front of it and spent the following years touring colleges & universities all over the USA . He then went on to performing on stages all over the world as a solo artist and as the concert guitarist for world music master Omar Faruk.
In 1997 he recorded his debut solo CD titled Electric Fingerstyle Guitar. In 2001 he recorded "BRIO" with platinum-selling recording artist Chris Spheeris and was an awarded best acoustic instrumental album of 2001″ by NAV. In 2002 he recorded his second solo CD titled Unity where each song is diverse in genre to showcase all the styles Anthony is capable of playing. In 2006 he collaborated with three time Grammy nominated artist William Eaton, together they composed and recorded a CD for the Electric Harp Guitar Group. In 2009 Anthony recorded 12 new solo guitar compositions rich in spirit and appropriately entitled "Heavenly Guitar". His latest recording is a fusion of Spanish guitar and Exotic music titled Ritual.
All recordings, concert dates, videos, tickets, photos, reviews, are available on his website www.anthonymazzella.com.
The Kokopelli Concert with Anthony Mazella, Kel Mockingbird and Peter Sterling will take place on Saturday, Feb. 17 at 7 p.m. Tickets are $20. For tickets and more information, please call 928-282-1177 or to order online, visit www.SedonaFilmFestival.org. You may also purchase tickets at the Sedona Film Festival office and Mary D. Fisher Theatre, located at 2030 W. Hwy. 89A, in West Sedona.