By Virginia Volkman, Library Director
Sedona AZ (January 17, 2014) – Sedona Public Library's Annual Quilt Show features 65 quilts, showcasing the creativity of our local quilters against the architectural beauty of the Library.
This community event is in its 21st year, and as always, the diverse display of traditional and contemporary quilts is stunning. The show runs through Thursday, February 6.
Quilter's Store Sedona is sponsoring this event, and we're grateful to new store owner Cyn-d Cunningham for continuing this tradition and for the many years that former owner Patty Krause devoted to the show.
As you wander through the aisles looking at quilts and reading the handout, the love that is poured into these quilts will be evident. May this diverse collection of quilts warm your heart with their beauty and stories and awe you with their creativity. Look for the quilts mentioned below, created by members of the Sedona Public Library "family."
"Jolly Halloween" (#3) is the work of volunteer Sandy Kreml, who works at the Circulation Desk on Wednesday afternoons. She found the pattern "Yesterday Charm" in Oregon and fell in love with it. Combining embroidery and quilting, two of her favorite crafts, made this a fun project. The quilting was done by Valerie Keueger.
"Summer Fun" (#56) is another quilt by Sandy Kreml. This project was completed with variegated floss. Sandy thought the vintage fabrics felt like a good match with the embroidered work. The source of the design is "Berry Picking Party" by Crabapple Hill Studio. The quilting was done by Mary Barley at the Christmas Goose in Las Vegas.
"Spirit Quilt" (#19) is the work of Gail Thomsen-Hunt, who volunteers with the book repair team. This is one of the first quilts that Gail made, and it was one of her first attempts at hand quilting, which she loves. The Southwest theme was inspired by living in Flagstaff for 37 years.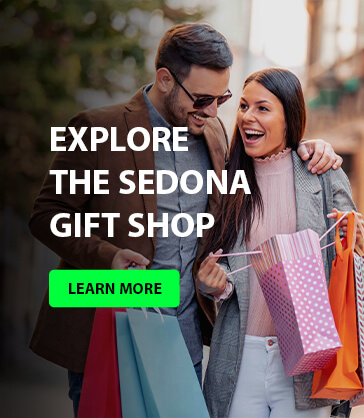 "Hopscotch Nine Patch" (#57) is also by Gail Thomsen-Hunt. About one third of the nine patch blocks were assembled by Gail's mother, Florence Thomsen. Gail used her own old fabrics to finish the blocks. The pattern for this quilt came from the book "Quilts! Quilts!! Quilts!!!: The Complete Guide to Quiltmaking" by Diana McClun and Laura Nownes. Gail also did the hand quilting. She said it "took some doing to get the squares to line up, as they were cut off square."
"Stars in My Garden" (#24) is by Joanne Brosz, who currently works at the Circulation Desk on Thursday mornings. Joanne always wanted to try an appliqued border, so she quit procrastinating and just did it! She got the pattern from a magazine and did the hand and machine quilting herself.
"Labyrinth" (#33) is by Krista Otto, who volunteers at the Circulation Desk on Wednesday afternoons. Krista used Debbie Maddy's "Calico Carriage Quilt Design," and she did the quilting herself. Krista made this intriguing quilt because her kitchen needed a new tablecloth, and she's been using it on the table now for many years.
"A Beautiful Day at the Beach" (#45) is by Anne Uruburu, current member and Past President of the Library's Board of Trustees and Circulation Desk volunteer. Anne made this beach scene to be donated to the Sedona Medical Center Oncology Unit so chemotherapy patients could "escape" to the beach while having their treatments. Anne is a cancer survivor. She designed, constructed, and quilted this quilt.
"Ode to My Garden" (#55) is by Katherine Merlino, a staff member who works at the Circulation Desk and in the Technical Services department. Katherine is a passionate gardener transplanted from the verdant rolling hills of Connecticut to the Verde Valley desert of Arizona. While she does love the warmth and beauty of her new home, she still misses her perennial border that bloomed with wild abandon from spring through fall. This quilt is an ode to that garden. Katherine used the "Braidings" pattern from the book "Watercolor Quilts" by Pat Maixner Magaret and Barbara Weiland, and did the hand quilting.
We hope that you enjoy another delightful show of quilts and stories. We are fortunate to have a talented community of quilters in our area, who generously share their treasures with us. As always, we offer a heartfelt thank you to the Quilters Store group for organizing the show and allowing us to display the quilts.
Sedona Public Library is a private, 501(c)(3) non-profit corporation, supported by donations and grants. Your tax-deductible donation may be sent to: Sedona Public Library, 3250 White Bear Road, Sedona, AZ 86336.