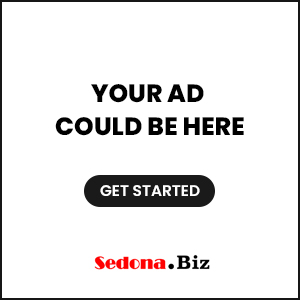 Special Guests John Waters, Richard Dreyfuss, Ed Asner, Chris Lemmon; Films about Sophie Tucker, Dean Kamen, George Takei, Food, Water, Immigration, More
Sedona AZ (February 5, 2015) – From Citizen Kane, considered by some to be the greatest film of all time, to classic films starring Richard Dreyfuss (who will be on hand) to films about food and food waste and from Sophie Tucker to Dean Kamen and George Takei, the 21st annual Sedona International Film Festival will feature 160 documentaries, features, shorts, Academy Award nominees and specialty films over nine days with a special tribute celebrating the 100th birthday of director and actor Orson Welles, Feb. 21-March 1.
Highlighting this year's festival will be a series of screenings and retrospectives of Welles' work coordinated by his daughter, Beatrice, who lives part-time in Sedona. She will be joined by renowned film critic and family friend Jeffrey Lyons.  In addition to Citizen Kane, Welles' classic films to be screened include Othello, Touch of Evil, Falstaff – Chimes at Midnight, the film he most wanted to be remembered by. Several documentaries and panel discussions also are planned and Q&A sessions with Beatrice and others.
The full Festival schedule of films, workshops, panel discussions and events is available at http://www.sedonafilmfestival.org.
Established among the nation's most sought-after independent film festivals by filmmakers, the nine-day Sedona International Film Festival brings more than 10,000 film lovers to Sedona's world-famous red rocks for films in a range of categories from World Cinema to Documentaries that Make a Difference and from Sedona Green to Family Films and Classics.
Among those attending the festival are director John Waters (Hairspray, Serial Mom, Pink Flamingos), who will perform his one-man show, John Waters: This Filthy World, a look at his remarkable 50-year career; a man that William Burroughs once called "The Pope of Trash." Ed Asner, who with Mark Rydell will perform their two-man show, Oxymorons. Asner, who is in the cast of two films in the festival, also will perform his one-man show, FDR.  Also scheduled to appear are Richard Dreyfuss (Goodbye Girl, Mr. Holland's Opus will be screened); Chris Lemmon, who will perform his one-man tribute to his father, Jack, A Twist of Lemmon.  Lemmon is a Verde Valley High School graduate. 
The Festival opens Friday, Feb. 20 with a concert by The Larry Dunn Orchestra performing the music of Earth, Wind & Fire.  Dunn was the keyboardist and musical director for Earth, Wind & Fire during their remarkable R&B run that produced more than 100 million albums worldwide, six Grammy's, four American Music Awards and 32 gold and platinum records.  A film about Dunn, All About Love: The Music of Larry Dunn, will be shown at the Festival.
Other films scheduled this year:
The world premiere of Girl on the Edge (Peter Coyote, Taylor Sprietler, Elizabeth Pena, Mackenzie Phillips), a powerful true story about the journey of a troubled teenage girl who finds healing in the most unlikely of places, and who must choose to either invest in her own recovery or succumb to the trauma of her past.
Night Will Fall, possibly the most shocking and emotionally staggering film ever shown at the festival. Although the Holcaust footage, some shot by Alfred Hitchcock, was used at the Nuremburg war trials, it was subsequently buried by the Allies and remained secreted away for 70 years. Now, re-mastered into an astounding film, Night Will Fall is a devastating visual reminder of the horrors of the camps and the politics which still surrounds the history of the Nazi era. (Graphic visuals).
The Outrageous Sophie Tucker, the rags-to-riches story of an iconic superstar who ruled the worlds of Broadway, vaudeville, radio, television and Hollywood long before names like Beyoncé, Lady Gaga, Bette Midler, Madonna and even Mae West.
The Immigration Paradox, takes a critical and in depth look at one of the most divisive issues in human global history — immigration that exposes the missing information to the immigration issue by interviewing an array of people from various backgrounds, which include economics, sociology, philosophy, history, policy, and activism.
SlingShot, focuses on inventor Dean Kamen (Segway Human Transporter) and his 15-year quest to solve the world's safe-water crisis. Iconoclast, Kamen is a modern hero whose inventions, mostly medical devices, help people in need and ease suffering.  
Secret Sharer, from Academy Award winner Peter Fudakowski (Tsotsi, which also will be screened), a contemporary fable told with epic beauty, humor and a twist in its tale about a young man's journey into maturity through challenging human relationships on the high seas.
To Be Takei, a look at the many roles played by eclectic 77-year- old actor/activist George Takei, whose wit, humor and grace have helped him to become an Internet phenomenon with more than 7 million Facebook fans.Now at 76, nine years after formally coming out of the closet, Takei and his husband, Brad, have become the poster couple for marriage equality, highlighting homophobia through television interviews and hilarious skits.
Sedona International Film Festival films will run all day beginning Saturday, Feb. 21 on four screens at Sedona Harkins 6, 2081 W. Highway 89A; the Mary D. Fisher Theater, 2030 W. Highway 89A, and the Sedona Performing Arts Center at Sedona Red Rock High School, 995 Upper Red Rock Loop Road.
Platinum All-Access Passes are $990; Gold Priority Passes, $490; 20-ticket packages, $210; 10-ticket packages, $105. Full-time students can get the 10-ticket package for $85. Individual film tickets go on sale to the general public on Feb. 16.
Packages, other than for full-time students, are available online at www.sedonafilmfestival.org or through the Festival Box office at (928) 282-1177.  Student packages must be purchased through the Box Office and student ID's are required.  For more information, visit www.sedonafilmfestival.org.