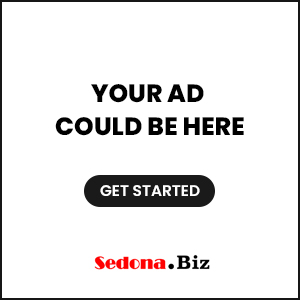 Sedona AZ (August 24, 2012) – The annual Sedona Winefest will attract wine lovers from near and far for an opportunity to taste only Arizona wines, and enjoy great food and music over a long fall weekend.
The highlight of the weekend will be the Winefest itself, where everyone from wineries, entertainment, and vendors will gather to present their wines, music and wears to those traveling as far as the UK. The Sedona Winefest also will present the first Juried Art Exhibition featuring local artists with mixed media (artwork) showcasing some beautiful works. The 2012 Sedona Winefest will also have food vendors to taste the local cuisine as well as merchants to show off their fine wears. The 2012 Sedona Winefest will take place on Saturday, September 22nd and Sunday, September 23rd, daily from 11:00am – 5:00pm at the Airport Vista.
Sedona Winefest Poster
The 2012 Sedona Winefest poster was designed by Peggy Sands. Born into an artistic family in New York, Sands' early exposure to art was an integral part of her childhood. Her formal education began at age 13 in her high school art room. There she learned the fundamentals of art and design, drawing, painting and printmaking. Professional recognition came early; at 16 she won an honorable mention in Seventeen Magazine's National Illustration contest; three years later she went on to win 1st prize. Sands currently lives in Sedona Arizona and She teaches drawing, watercolor and composition at the Sedona Arts Center, and leads workshops at SAC and other Centers in the US and Europe.
If you're planning to attend this year's Sedona Winefest, make your plans soon. Early bird tickets will be closing down by September 1, 2012 and you can purchase your tickets in advance at http://sedonawinefest.com/tickets.html